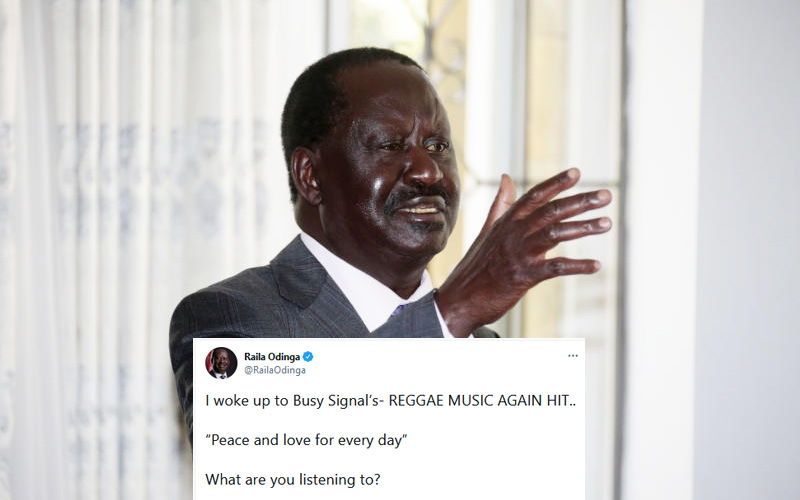 Orange Democratic Movement (ODM) party leader Raila Odinga today lit up social media after tweeting that he woke up listening to Busy Signal's hit, Reggae Music Again. "I woke up to Busy Signal's- REGGAE MUSIC AGAIN HIT… Peace and love for every day. What are you listening to?" tweeted Raila.
READ ALSO: Raila sparks mixed reactions after his statement on doctors
The tweet caused a stir online as it comes just a day after over 27 county assemblies endorsed the Building Bridges Initiative (BBI), surpassing the threshold of 24 required to trigger a constitution amendment. The BBI juggernaut has long been referred to as 'reggae', as they often play the song Nobody Can Stop Reggae by Lucky Dube during rallies meant to mobilize support for the Bill.
Raila listening to Reggae Music Again could be interpreted as making a statement that approval of the Bill is on course. The Bill still needs to go through the National Assembly and the Senate before being forwarded to the president for assent. On receiving the Bill, the president will then forward it to the IEBC, who as the law stipulates, shall conduct a referendum within 90 days of receiving the communication.
Reactions
Raila's tweet elicited mixed reactions from Kenyans:
I woke up to trio mio "jakom" Cheza kama wewe — Raila Odinga Junior (@Railajunior) February 24, 2021
???????????????? honestly this isn't baba

— Beatrice Kiche (@KicheKicheb) February 24, 2021
Whoever is running this account will soon say something Baba will regret - too much kiherehere. Mark this tweet. — ???????????????? ???????????????????????????????????? (@Mr_Sylves) February 24, 2021
Oyaa, mlishatuharibia, 'nobody can stop Reggae', maze lenga kuskiza hii genre, we want to enjoy the hits without them being associated with BBI... THANK YOU. — kanyi mwangi (@Kanyi_mwangi) February 24, 2021
READ ALSO: Raila rubbishes talk that referendum will cost Sh14billion
Boss @silasjakakimba
Whoever is running this account should either be changed immediately, or should learn a thing or two about communicating in the voice of Baba, & learn bit more on Political Communication. The recent trajectory the accounts are taking is detrimental. Peace????? — Tobias Belle, MPRSK (@Bellehtobby) February 24, 2021
Baba I am listening to whatever you're listening. In fact, I have it on loop... — ???????????????????? (@Lehddy) February 24, 2021
This admin pic.twitter.com/njb0SXGQZI — Risongose (@risongose) February 24, 2021
It seems baba's social media account manager was changed — FRED OMBATI (@ombatifred2) February 24, 2021
Unaharibu utamu wa reggae..... Mtu ako reggae ameshikisha jabaration reggae strong inachezea handas inashuka ukifikiria uko events za BBI — Baba Jayden & Havillah (@bennytothedj) February 24, 2021