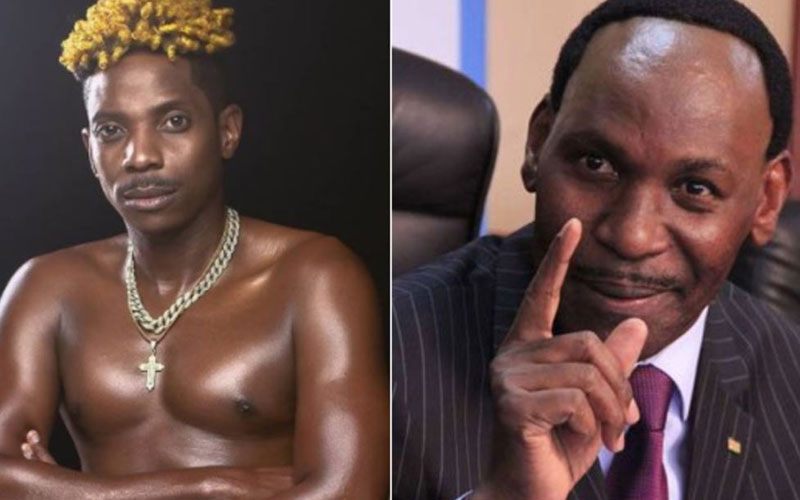 Eric Omondi has offered to pay Kenya Film Classification Board (KFCB) CEO Dr Ezekiel Mutua Sh750,000. The father of one's offer came after the KFCB boss advised artists to be comfortable with criticism and people talking about them.
"Be comfortable with criticism and with people talking about you. That's how your enemies advertise your brand without you paying anything!" tweeted Dr Mutua.
In a sarcastic response, the former Churchill Show comedian agreed with Mutua, adding that the KFCB boss is the greatest marketer in the country and the fact that he always does it for free makes it quite unfair. Eric reminded Dr Mutua that he singlehandedly marketed his Big Tyme Entertainment Studios and offices located at Maji Mazuri road Lavington by calling them brothels.
READ ALSO: Lupita laughs off CS Balala's claims she could not be reached in 5 years
Eric added that if he'd marketed the studios, it would have cost him millions of shillings. The funnyman then told Dr Mutua that he's willing to pay him a cool Sh750,000 for the good work he did for him.
 "I totally agree with you sir. You are the greatest marketer in this country and the fact that you do it for free makes it quite unfair for you. You singlehandedly Marketed my Studios and offices by calling them a brothel. Something that would have cost me millions of shillings to do. Please have your office send me an invoice. I promise you (and you can count on my word) I will pay you a total sum of Sh750,000 if you invoice me. #PayEzekielMutua #PayInfluencers."
Last year, Dr Mutua called out Eric Omondi for allegedly putting out inappropriate content online. The KFCB boss admitted that the comedian is great at what he does but needs to respect himself and obey the law.
READ ALSO: Dr Ezekiel Mutua claps back at Lupita over 'sarcastic' Balala jab
"So there's Corona but this fool has been kissing multiple girls and recording these videos in the name of comedy. Another morally bankrupt socialite is recording more videos teaching these young girls how to have sex with Omondi in the devilish mentorship program known as "Mombasa Raha." The facility in Lavington that was opened with hype ostensibly as a studio is nothing short of a brothel. It's a place where girls are being sexually abused and degraded in the name of art," claimed Mutua.
He advised Eric to use his talents to promote positive social values as youths who follow him must not think that good comedy is nudity or vulgarity. In a quick response, Omondi cautioned Dr Mutua against using his name for publicity stunts, adding that he has never seen him supporting the entertainment industry yet he is always quick to criticize.