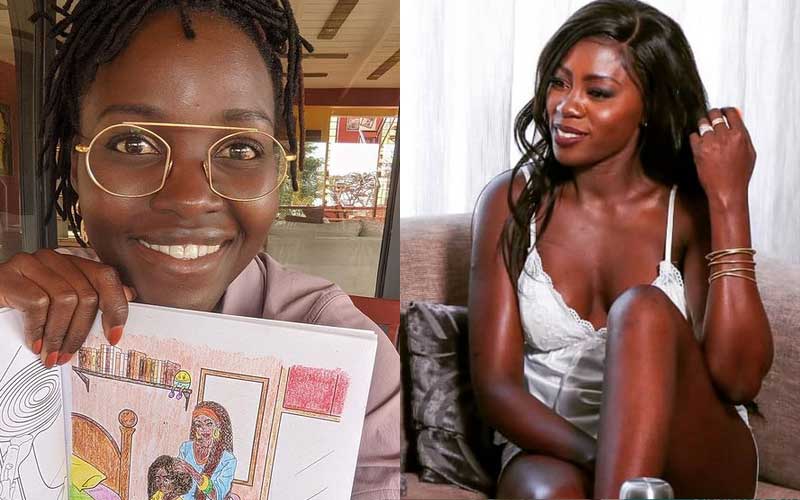 On February 20 singer Akothee and Oscar-winning actress Lupita Nyong'o held a joint Instagram live session to talk about the latter's children's book, Sulwe. Responding to fans questions during the livestream, Akothee revealed that the pandemic made her scale down her monthly expenses. According to the outspoken singer and philanthropist, she used to spend Sh3.5 million a month but she's since cut back on her expenditure.
"The pandemic made me realize that I didn't need so many people around me- I used to move around with almost 10 people. But during the lockdown period I realised that I didn't need to leave my house as often and I also learned when how and why to spend money. My bill reduced from Sh3.5 million to 1.5 million a month. COVID toned me down," said Akothee.
READ ALSO: Sulwe translated into Dholuo, Kiswahili
Addressing the same question, Lupita let on that the pandemic made her realize the importance of family.
"The COVID lockdown made me realise how much I miss my family. I didn't have time for the people I love nut and when the world shut down, I realized those are what you have. I changed how I spend time with my family," she said.
Sulwe animation, inspiration
Speaking on the book's title, Lupita revealed that Sulwe, which means stars in Luo was inspired by her mother.
"I remember walking with my mother at night and she'd gaze at the stars while referring to them in Luo. I have always loved the sound of the word. That word Sulwe always stayed with me and I'd say that if I had a daughter I would call her so- this book is my first child."
Lupita further revealed that Sulwe will be made into an animated musical film in a partnership with Netflix in a bid to reach a wider audience.
Writing
Writing the book which addresses colourism was harder than the Us actress initially imagined and as she revealed, it took her two years to complete it.
"I found that writing a book is harder than it appears- I thought I'd be done within a weekend but it took me two years as you have to distil complex ideas into simple language. I wanted it written in Swahili and Luo as I wished I had more children's book in our national language. It' a pity we ended up developing the colonial language (English) while neglecting our native languages," said Lupita.
READ ALSO: Sulwe- Lupita Nyong'o writes book on her struggle with colorism
Recounting her experience growing up, Lupita said that while young, she was fluent in Luo but it was outlawed in school and that "registers on a child's mind that it's not okay to speak my mother tongue."
Colourism lessons
In a typical case of making lemonade form lemons, Lupita divulged that she's learned invaluable lessons during brushes with colourism.
"My experiences gave me a story to tell and I'm grateful for this- you make your wound your weapon."
On what she likes best about herself, Lupita said that her legs are her favourite body part. On what she would change about herself, she said "I wish I was more forgiving. I can hold grudges."