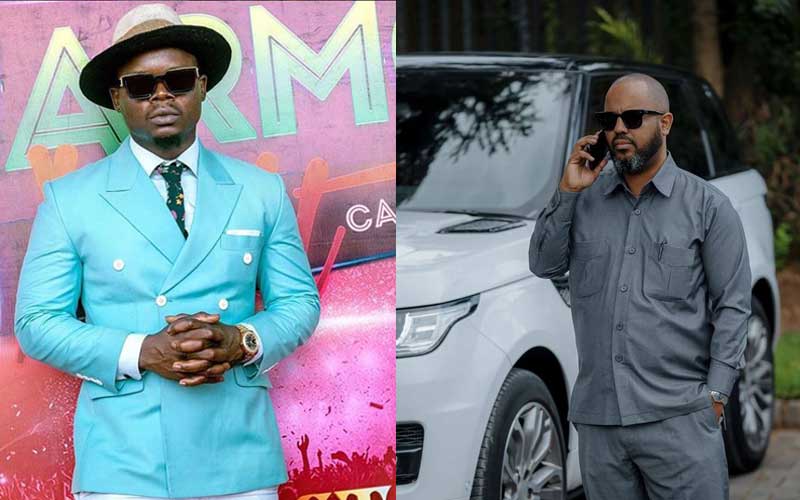 Diamond Platnumz's manager, Sallam SK has slammed Bongo star Harmonize for allegedly involving himself in singer Rayvanny's case after he was accused of courting a minor. SK accused the UNO crooner of pretending to care about Rayvanny's wellbeing when truly his intention is to see him behind bars.
"There's a rat that has camped at the police station pushing for his fellow musician's detention saying that he should be placed in police custody. However, thanks to the law of the country, he has no power to make such a demand," he said.
READ ALSO: Sallam Sk shoves away Harmonize's hand at funeral
According to SK, Harmonize only went to the press to make himself look blameless, a trick he said they will not fall for. Disregarding Harmonize's well wishes, SK stated that neither of them needed his prayers therefore, he should keep them to himself. He further suggested that he uses his prayers to ask for a child instead of playing father to someone else's child.
"Because of this realization he was forced to run to the media to pretend he is trying to get to the bottom of the issue saying that all he wants is peace and that he is praying for him not to get into any more trouble.  That rat is going through all the trouble to ensure his fellow musician gets into trouble. Let me give you news brother, we don't need your prayers. Maybe you can take them to the hospital to restore your ability to have kids and raise them on your own, not renting other people's children," said Sallam.
Strained relationship
Harmonize and SK's relationship is known to have become rocky after he ( Harmonize) exited the popular Wasafi Classic Baby (WCB) record label unannounced, a move that not only cost him millions of money but his relationship with other WCB members including his longtime friend and boss, Diamond Platnumz.  According to Diamond's manager, his relationship with Harmonize was already strained even before he left WCB and therefore didn't see the need to pretend to like him whenever they bumped into each other, especially in public events.
This explains Sallam snubbing Harmonize when he tried greeting him.   
READ ALSO: Diamond Platnumz's manager tests positive for coronavirus
"I did not have a problem with Harmonize at all. Because as I have explained before, I was the first person to take him to Nigeria, UK… and every other place we went together we got the job done without any issues. I think the problem is that all of this took place in a burial, they thought I would mind because he (Harmonize) left the label. To clarify, Harmonize has never greeted me for about three years now even from when he was at WCB. So, I never saw the need for a handshake that particular day yet has snubbed me on many occasions."