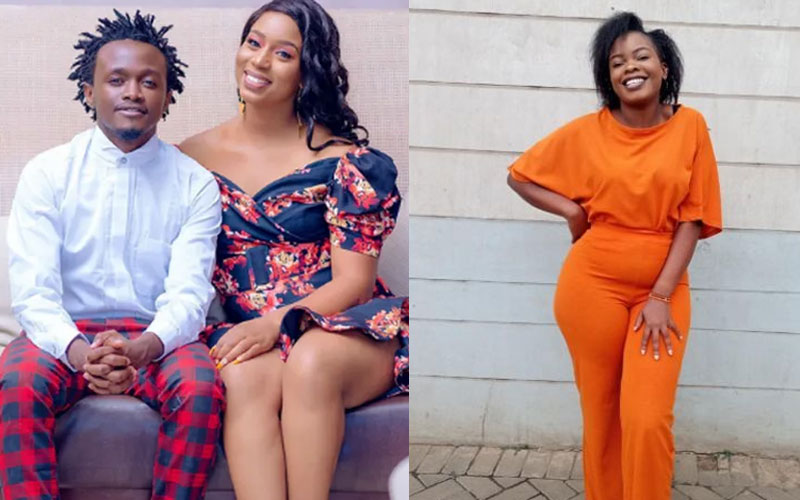 Bahati's ex, Yvette Obura has elucidated her relationship with the celebrity's wife, Diana Marua. Responding to a series of questions posed by curious social media followers, Yvette described her current relationship with the bubbly social media influencer. 
"Are you in good terms with Diana Marua?" posed one fan. Yvette responded saying, "I'd say a lot but I thank God for where we are right now."
Another curious fan questioned whether Diana is kind-hearted in real life as she seems to be on TV which Yvette answered saying, "she is kind, on and off camera."
READ ALSO: Co-parenting is not easy- Yvette Obura
Diana and Yvette have in the past been rumoured to be at loggerheads over matters concerning Bahati and their daughter Mueni. A few years back Yvette warned Diana and Bahati against posting her child's pictures on social media without her consent.
"Last weekend Bahati picked up Mueni as usual and said they were going for lunch only for me to learn later that my daughter was trending on social media. He never sought my consent. I want his friends and girlfriend Diana Marua to stop posting my daughter's photos, it is disrespectful," she said.
It, however, seems that the two parties ultimately reached an understanding as Bahati and Diana now freely post pictures of the little girl in matching outfits and even hairstyles with their daughter Heaven. Yvette previously confirmed that she has no relationship with Dina and only go as far as greeting each other when she comes to pick Mueni.
"We don't have a relationship, but she's the one who picks up Mueni. We just don't talk, greetings only when she comes for Mueni," she said. 
According to Yvette the fact that they are not entirely 'friends' as people expect them to do not mean she holds anything against Diana. 
READ ALSO: Yvette Obura's new look after losing 17kgs
"We don't have any kind of beef, I believe… At the end of the day, she's like Mueni's other mum and so I'm easy," she added.
Break up
Opening up on the reason for their split Yvette said they started growing apart after news of Mueni's pregnancy. She also accused Bahati of cheating on her during that time, leaving her with no option but to call it quits. 
"I started dating Bahati way before he became a celebrity in 2011 and we were in a serious relationship for five years. The relationship was good until when I got pregnant and things started changing. We did not expect the baby but I decided to keep it. That is when we started to grow apart and the relationship was no longer what it was. He cheated on me. I never aborted and I was never a groupie as some of the blogs say," she said.