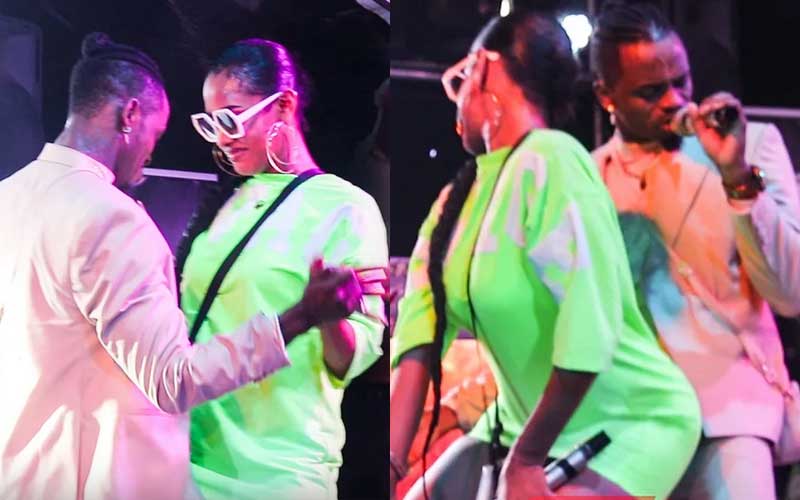 On January 23, Kenyan singer Tanasha Donna touched down in Tanzanian for the first time since her publicized split from Bongo superstar Diamond Platnumz. Tanasha landed in the neighbouring nation with her son in tow, an indication that she might have buried the hatchet with Diamond after previously swearing to never set foot there again. Soon after her arrival, she was picked up at the airport by Diamond's entourage and they later performed together. 
Videos of the performance show Diamond singing on stage before being joined by Tanasha who's wearing a lime green dress. They proceed to perform their hit song Gere with Tanasha sensually whining on Diamond, to the crowd's enjoyment. After the performance, they embrace for a while as the crowd chants 'Simba', Diamond's nickname. 
READ ALSO: Tanasha Donna blasts Diamond's new song amidst break-up rumors
"Dar es Salaam, we are lucky because Tanasha has come to Tanzania," Diamond says afterwards. 
Shooting music video
Speaking to the press at the airport soon after her arrival, Tanasha said that she's in the country to shoot a music video with the 'African Princess' Nandy. While revealing that she's unsure of how long she'll be in the country, the former radio presenter further said that she'll 'definitely' meet Diamond's other baby mama, Hamisa Mobetto. 
Warming up to Diamond
Tanasha started warming up to Diamond only recently as just a month ago, she swore that she won't take her son Naseeb Junior to see his father. 
"About taking our son to see him in Tanzania, no way. The baby can go with his nanny but as for me I will remain here in Kenya because I still have so much work to do," she told Radio Maisha's Billy and Mbaruk. 
However, the turning point seems to have come about two weeks ago when their collaboration Gere was featured among 10 most viewed African songs on YouTube for 2020. She wrote: "Huge thanks! Gere by myself and baba Naseeb Junior made it to most viewed African songs on YouTube 2020. Grateful to Diamond Platnumz for believing in me and collaborating with me on such a big tune and to the supporters who've supported me and continue to believe in me so far. Cheers to a greater 2021 Inshallah. The dream continues." 
Quits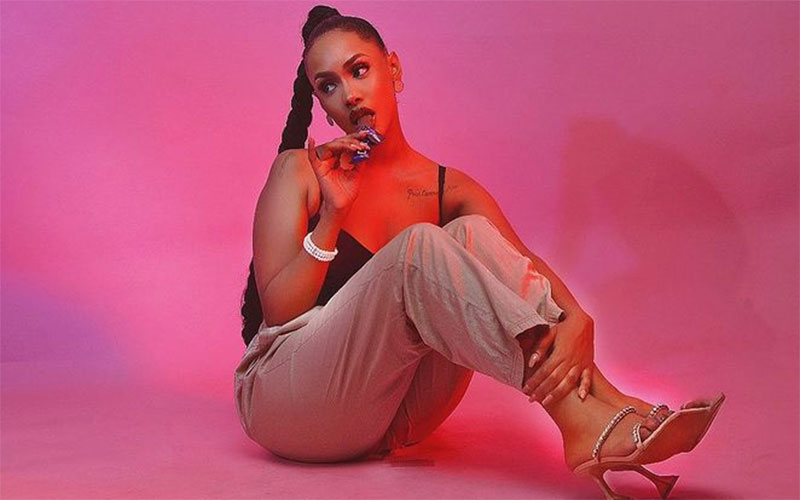 Diamond and Tanasha called it quits in 2020 after close to a year of dating and she relocated back to Kenya from Tanzania.
READ ALSO: Esma Platnumz reacts to Tanasha unfollowing and blocking her on Instagram
"Landed in blessings… Home. Where I belong…I feel your presence, Allah. Every time you close one door, you open another. Each and every single time. Now wait and see what I have in store for you all especially my beautiful strong women," she wrote at the time. 
She was the first to drop hints all was not well between them after unfollowing him and his entire family on social media. She later bashed his song, Jeje via Instagram, saying that Diamond doesn't have to feature semi-nude, twerking women in the videos to make hits.
Mending ties
It seems Diamond is keen on mending ties with the estranged mothers of his children, as Zari Hassan was recently in Tanzania with their two children. During the visit, the singer bonded with children, giving them a tour of Wasafi Media and his mansion.