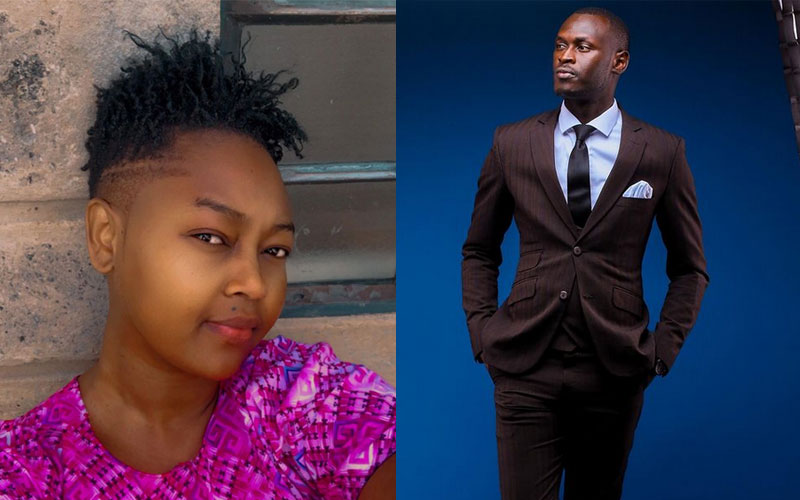 Rapper Kennedy Ombima alias King Kaka has fallen head over heels for his wife, media personality Nana Owiti's new look after she shaved off her hair.  Showering her with praise on social media, the Wajinga Nyinyi rapper admitted that Nana had managed to steal his heart with her new look.
"Endelea tu kunisanya roho. Sawa tu! @nanaowiti na hii hairstyle mpya sasa imeseti mshale kwa bow ya Cupid," he wrote.
Documenting the process on her Instagram page, Nana explained that she was terrified of the idea of cutting her hair at first but after consideration, gathered the courage to do it.
READ ALSO: How I escaped after being kidnapped by my ex - King Kaka's wife, Nana Owiti
"Today I begin a new chapter of my life. I feel unshackled and free from society's expectations. It was scary at first by the way. What do they say about women shaving their hair?" she wrote.
Here are some of the comments from her post;
Murikijackson69 Super brave girl.
Thetracymitchell But why Nana?
Marion.ogeto Welcome to the club daring and strong queen.
Osoro_kdb Such a bold move.
Eatherkk I really desire to cut my hair but I sadly can't.
Josee_baba_neymar You are my daughter's icon now she wants to shave.
With Nana's new look, the Chatspot show host has joined a growing list of celebrities making daring changes to their appearance as they usher in the New Year.  Not too long ago Award-winning actress Brenda Wairimu shocked her fans by shaving her hair. Although not many people were impressed by her decision, Brenda maintains that she is happy and content with her new look.
READ ALSO: Nana Owiti's painful miscarriage
"The way people are very mad at me for cutting the hair, but congratulating me at the same time on the new do. My DMs are currently a war zone. Thank you to all the ladies who inspired and rock short hair, and are being so nice with the complements and advice. I'd wanted this for so long, finally I got 'brave' yesterday!" she said.
Not only did the mother of one cut her hair, she got two leg tattoos to go with it.
Timmy Tdat
Just as we were preparing to crossover into the New Year, Timmy Tdat unleashed his new hairstyle after cutting off his signature dreadlocks and settling for a low cut.  Despite uproar from his die-hard fans, the Wembe crooner doesn't seem to have plans of switching up his look anytime soon.