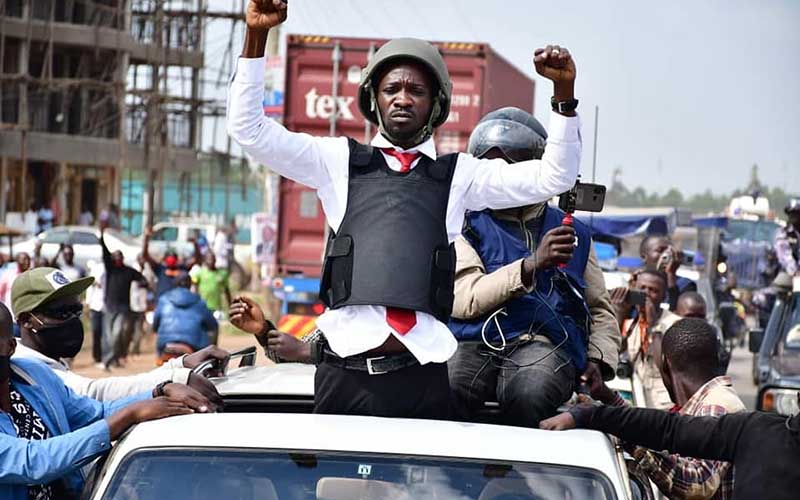 Ugandan authorities have accused presidential candidate Robert Kyagulanyi alias Bobi Wine of plans to stage his own kidnapping immediately after casting his vote. According to a statement released to the public, the police claim they have credible information that the National Unity Platform (NUP) presidential candidate is hatching a plan to kidnap himself. Speaking to the press, spokesperson, Mr Fred Enanga said Bobi Wine will possibly hide at an unnamed embassy after casting his vote.
"He will thereafter allege through his NUP networks and bloggers, that he has been kidnapped by state operatives,"Enanga said.
READ ALSO:Rift between Museveni and Bobi Wine widens, plays out in fiery interview
The intention, according to the police, is to incite the public and cause violence. He cited the recent Kampala riots following the arrest of Kyagulanyi in November last year which led to the deaths of over 30 people.
"We want to inform the public that this is a tactic that we strongly condemn and issue a strong warning to the perpetrators," he added.
However, speaking on behalf of the musician turn politician, NUP spokespersonJoel Ssenyonyi dismissed Enanga's remarks as jokes.
"On that (planned kidnap), what I would say is that Ugandans should stop laughing at Enanga when he makes such comments. That man needs help and he should be taken to hospital and checked whether his head is upright.  Honestly, he needs immediate attention," Ssenyonyi said.
READ ALSO: Bobi Wine has changed the Ugandan opposition, can he win poll?
The accusation comes barely a week after Bobi Wine evacuated his children to the US amidst claims of impending attacks and kidnap.
"The regime propagandists should be very ashamed. In a free and democratic country, nobody should live in fear simply because they oppose the government in power. In a free country, a presidential candidate would never have to wear a bullet-proof jacket and helmet in order to go for campaigns! That is the country we are struggling to build. Gen Museveni should even be more ashamed that 35 years later, children have to yet again run away from their country over fears of vengeful attacks!" he said in a statement.
Uganda will vote on Thursday in presidential and parliamentary elections marred by political repression.