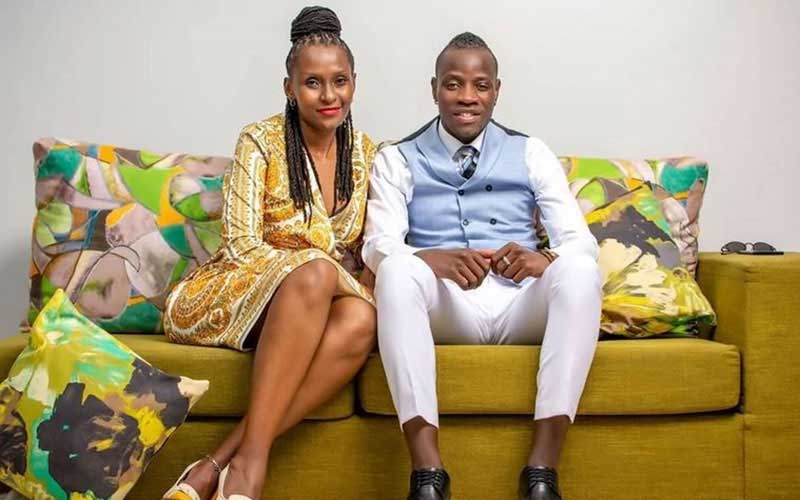 Popular gospel artist Guardian Angel's 50-year-old girlfriend Esther Musila has penned down a heartfelt birthday message to the singer. In the romantic lover letter shared across social media platforms, Musila showered Guardian Angel with praise, stating that every moment spent with him is always memorable. She further added that through his love, she now believes that good men still exist.
READ ALSO: Guardian Angel and Esther Musila start their YouTube show
"My love, my heart is filled with gratitude for the love and friendship that comes from you. Thank you for the late-night laughs and the early morning kisses you shower me with. Thank you for showing me humility and being a blessing to my life. Every moment spent with you is memorable. Thank you for holding my hand through this life and proving that good men still exist, and thank you for the pleasure of being the woman in your life," Musila wrote.
Promising to spoil the Nadeka hit-maker on his special day, Musila wished the singer happiness, health, joy, and prosperity in the New Year. She further reaffirmed her love for him, describing the gospel artist as the twinkle of her eye.
"I truly wish that you are blessed with happiness, health, joy, and prosperity in life. Just like you treated me as a queen on my birthday, I shall make you feel the warmest treat like a king always.  Happy birthday to the twinkle of my eye and the person who I love from the bottom of my heart," she added.
The couple went public with their relationship back in September 2020, and ever since, the two have been subjected to harsh criticism mainly because of their age difference. Weighing in on the two, popular city preacher Pastor Migwi claimed that the age gap between the two is too large and not idealistic.
READ ALSO: Guardian Angel forgives and reconciles with father after years apart
"The Bible doesn't talk about age and anyone is free to do whatever but as a counsellor, I can see his tomorrow. What comes to my mind is he in there for money. He's marrying money and that is very wrong. He is a very young man he should go for his agemates than a rich older woman who will make him regret later.  A good wife comes from the Lord (Proverbs 31)," said the preacher.
Responding to critics at an interview, Musila made it clear that at her age, she knows exactly what she wants in life and she is determined to enjoy life to the fullest.
"I want to put this straight, I am 50-year-old I have been through life and I know what I want with the reminder of my life that God has given me. My mother died at 72 years and if I have to live as long as she lived, that's 20 years and I want those to be my best life starting now," she said.