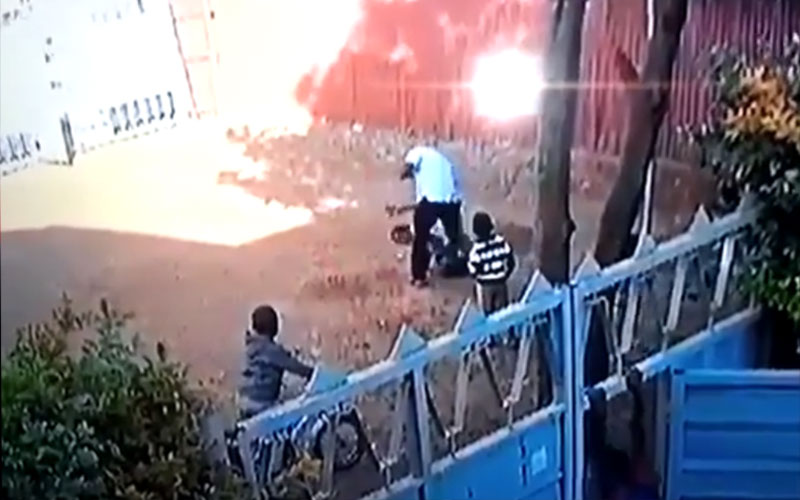 A man was arrested after slapping a 7-year-old boy in Ruaraka causing perforations in his left eardrum. Narrating the shocking December 20 incident in a popular Facebook group, the boy's grandmother said that the assault was prompted by the boy accidentally hitting his vehicle while playing with a tyre. 
"He was playing with a tire when it went ahead of him and hit a stationary car within the compound belonging to one of their neighbours. When the man found out, instead of calling my nephew to discuss compensation if any was needed, he went to where Robin was and slapped him thrice," wrote Wanjeri Nderu.
READ ALSO: Daughter to former deputy commissioner for lands accuses MP of assault
Footage of the disturbing incident shows the man slapping the boy, causing him to fall on the ground. He then proceeds to slap him twice as he lies on the ground as his playmates look on. 
"Robin ran home crying. He told his mom he was slapped because his tyre accidentally hit a car. Because of the pain he was in, his mom rushed him to hospital where an examination determined his left eardrum was perforated. As of today morning, he still can't hear using the damaged ear. A report was made at Ruaka Police Post. The police were quick to act and the suspect is in custody. According to a source, the suspect is a weight lifting enthusiast. I cannot imagine the strength packed in a single slap!" she added. 
Wanjeri further vowed to seek justice for her grandson while urging adults to desist from using children as punching bags. 
"Dear Adults, we know it's been a tough year but children should not be used as punching bags for your stress!"
Reactions
Footage of the assault elicited emotive reactions from Kenyans:
Kimathi Nicholas This man can't be having children.
Endesia Olela Evil... Just evil.
Kathure Nkonge Oh dear, this is just sad and unacceptable.
READ ALSO:Sh3 million- MP Gideon Mulyungi to pay anchor Doreen Gatwiri for assault
Fridah Wanyoike Wah, beating a kid like that just because of a car. Gosh. Some people are cursed.
Pius Ouma Kama ni mtoto wangu, mwanaume ungejua mbona mluhya huchinja kuku.
Kingsteroz Kórir Calebk B'Ádrïél Somebody do that to my kid and one of us has to make a date with our maker. Nothing like police and cases here.
Kobi James Just by reading the comments, I don't even want to watch that clip pressure, sukari,chumvi na spice zote zitapanda. I don't even want to imagine what I would do to such an imbecile!