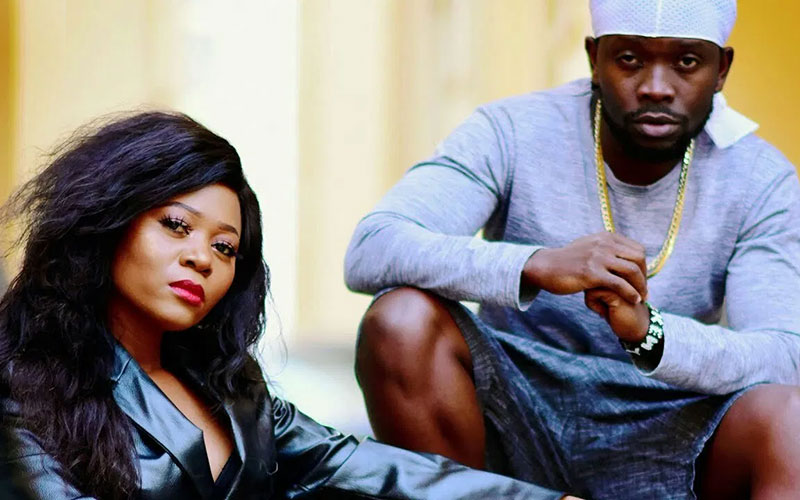 Veteran Kenyan rapper, Kenneth Aketch alias Kenrazy has spoken for the first time since his wife Sosuun publicly broke up with him. The self-proclaimed King of Ghipuka revealed that he was doing his best to work things out with his wife.
"Since the day she made it public, I never gave up. I never stopped talking to her," he said.
Kenrazy dismissed claims that Sosuun, real name Frediana Nafula had packed her bags and left their matrimonial home.  In his explanation, the Mbilikimo Mkora crooner stated that they are currently not in the same place but assured fans that they have not permanently parted ways.
READ ALSO: Sosuun hints at end of 10-year marriage to Kenrazy, blames in-laws
 "She can't leave. We have built a very big house who can leave? We are just not together in the same place but I believe with the effort I have been putting on both sides everything will be okay," he added.
Toxic in-laws
In November, Sosuun bid the love of her life goodbye citing strained relationship with her in-laws.
Nobody understand the pain a woman carries as year go by from in-laws who never find you enough. They always find a loophole in their family just because you are not part of it. I have experienced that and I have to act accordingly for the protection of my daughter and my own mental fitness. I have learnt that never underestimate someone who has hated you from the very first day they laid their eyes on you, because you have no idea how far they are willing to go just to make sure everyone else in their family hates you.
"You will never be enough to a malicious sister in-law, especially if you are living happily with their brother. The fact that you get in a family gathering and everyone's mood changes, you are left in a state of should I say Hi or not?... the most tiring and exhausting relationship a woman will ever have to mend is relationship of in-laws who just don't appreciate your presence in their family," read her post in part.
READ ALSO: Kenrazy's wife Sosuun speaks after seductive messages drama
The Sura ya Kazi "singer further explained that she would rather step aside and let her husband and his family carry on with their relationship that pull him away from them.
"I am sorry I lost my strength through it all. I became weak and weary and what scared me the most is the fact that I started being immune to pain… God knows if I will ever wish for a man in my next life, I will not ask for anyone more or less of you. I still pray for you…you are just perfect the way you are and I made sure that you would never have to pick sides because I personally can never picture my life without my beautiful sisters who I love with my life so clearly, that would be selfish of me," wrote Sosuun.