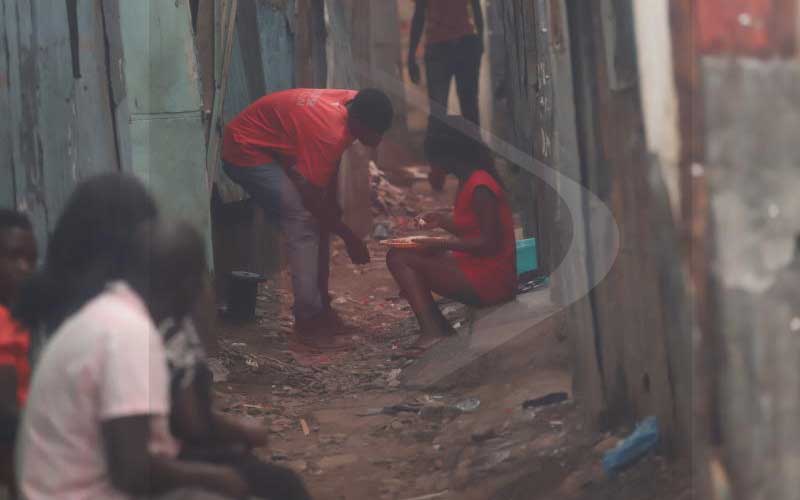 Jane (not her real name), a self-confessed sex worker says that 2020 will go down as one of the worst years of her life. The 35-year-old mother of two teenage girls has lost tens of "clients" due to the coronavirus that saw the Government introduce curfew and ban night operations for bars where she operated from. The single mother from Karagita estate in Naivasha, Nakuru County, has since introduced her 16-year-old daughter to prostitution, a decision she is not proud of.
"After the closure of the bars due to curfew, we had to bring men into our homes, exposing our dark side," she says.
In the process, some of the clients "liked" her daughter who soon joined her.
READ ALSO: Students by day and prostitutes by night
"I know what I am doing is wrong but we have to eat, pay rent and buy clothes. And because I don't have a job, me and my elder daughter have to rely on men," she says with a distant look.
This is the current situation in informal settlements in Naivasha where child prostitution has become the norm coupled with an increase in drug and alcohol abuse. The most affected areas are Karagita, KCC, Kabati and Kihoto estates which host hundreds of low-income earners. There are fears that the number of teenagers engaged in prostitution in the informal settlements could rise further after the Government suspended the Kazi Mtaani initiative that benefited the youth. With bars closed and the 10pm to 4am curfew currently, the tens of women, who include former flower farm workers, have resorted to commercial sex work during the day.
A research by Lifebloom Services International released last week reveals over 50 per cent of the sex workers interviewed have resorted to carrying out such activities in their houses since curfew was introduced. Of their clients, 90 per cent are married men who seek "quickies" before rushing back to their families. According to the organisation that deals and supports victims of sexual and physical abuse, the number of commercial sex workers in the estates is on the rise.
The two-month study conducted in the three informal settlements had over 200 well-known commercial sex workers interviewed. According to the project manager of Lifebloom Service International Charles Kasuku, child prostitution has become the norm in the settlements. Kasuku says the situation has been worsened by use of drugs and alcohol by parents and minors.
"We have recorded cases where men are sleeping with both the mother and the daughter openly for a fee," he says.
Kasuku adds that the organisation has identified 205 women and was providing them with food, sanitary pads and other personal essentials.
READ ALSO: I am a prostitute by day, good wife by night
"We have conducted sensitisation sessions and we are happy to report that over 20 of them have started their own businesses and are no longer involved in sex trade," he says.
Esther Ng'ethe, who was involved in the research, says most of the women involved in the trade are aged between 20 and 30 years and had studied up to Form Four. She says that according to their research, 56 per cent were full-time commercial sex workers while less than 15 per cent are engaged in Kazi Mtaani programme.
"After the disease was declared a pandemic, we decided to conduct a research on its effect on commercial sex workers and the results are worrying," she says.
Ng'ethe further divulges that the closure of bars and lodgings coupled with the ongoing curfew have pushed the women to use their single houses to entertain clients. In the process, their daughters have fallen prey to the men who have wooed them using cash, raising fears of under-age pregnancies.