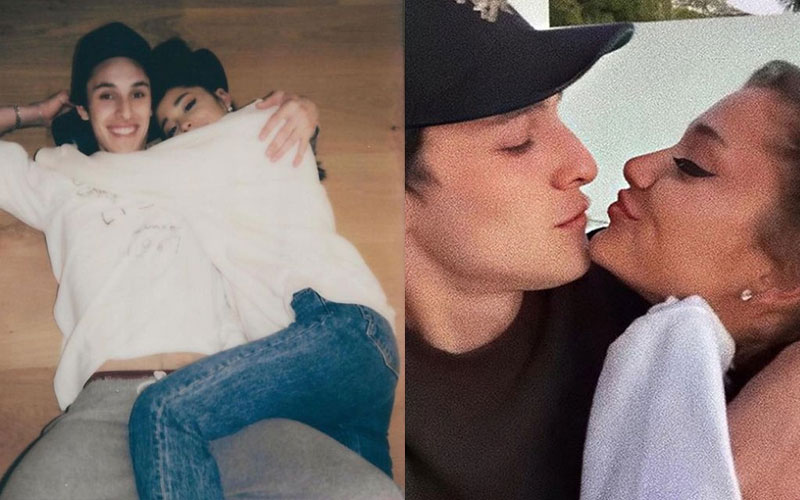 Ariana Grande 's engagement ring may blind some fans due to its sparkle, but the rock also features a touching detail in a sweet nod to her late grandfather. The Positions hitmaker said "Yes" to boyfriend Dalton Gomez after he popped the all-important question. Rushing to Instagram to share the exciting news, Ariana couldn't help but show off her diamond sparkler with fans. The ring - which is estimated to be worth an eye-watering $750,000 (Sh82 million) - features a pearl sitting next to a huge tilted diamond on the band.
As fans swooned over the rock, eagle-eyed followers noticed something very special Dalton had done to the ring to make its sentimental value stand out. Fans recognised the pearl from a tweet Ariana made back in 2014, in which the singer told fans that her beloved grandmother Nonna made the ring for her.
"Nonna had a ring made for me w/ the pearl from grandpa's tie pin," Ariana wrote. "She says he told her in a dream it'd protect me <3."
READ ALSO: Ariana Grande 'sparks Sh570 million bidding war' for rights to Sweetener tour film
And fans were left convinced the pearl in her engagement ring from Dalton is that exact pearl that sits next to the diamond. One fan wrote: "Omg I am so happy for Ariana. The fact that Dalton even thought of that. Ariana really believed she could and would never love again and she found someone who made an engagement ring out of her grandpa's pin."
"The meaning behind the ring is so beautiful. Ariana will always have a piece of her grandpa with her," wrote another fan.
CEO at RareCarat.com Ajay Anand said: "I would estimate the ring to be an 8 carat oval diamond - we got a good look at it on Instagram, and it's high colour and clarity, meaning we are talking a ring worth $750,000 or more."
Ariana shared a string of snaps of the two of them on social media as she announced the happy news.
READ ALSO: Nicki Minaj, Ariana Grande accused Grammys producerof bullying
"Forever n then some," Ariana captioned the post on Sunday night.
It's thought that the couple began dating last year and they spent much of the coronavirus lockdown together. Dalton works outside of the entertainment industry and is a real estate agent. This is Ariana's second engagement as she was briefly engaged to Saturday Night Live star Pete Davidson.