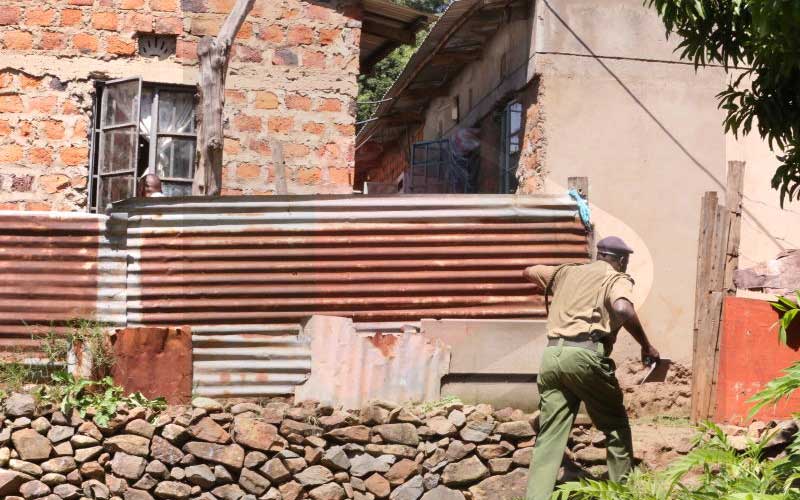 Police officers have rescued six people from the house of a senior police officer in Chogoria, Tharaka- Nithi County. According to the Directorate of Criminal Investigation(DCI) , police raided the chief inspector's house where they found the victims sleeping on the floor. Describing the conditions of the victims as 'horror-like', the DCI further revealed that the senior officer had been sodomizing them for an unspecified period.
"This morning some minutes past midnight, our officers rescued four boys aged between 14-15 years and two young adults of 18 and 19 years, from the yoke of sodomy. In a horror-like scene visited by Maara sub-County Criminal Investigations head & his Kenya Police counterparts, the boys were found sleeping on the floor in the perpetrator's house in within Chogoria Township.
READ ALSO: Worshipers shocked as Nakuru pastor is arrested and charged with sodomy
"Shockingly, the perpetrator of this beastly crime is a Chief Inspector of Police, in-charge of a Police Post within Chogoria, who is supposed to safeguard the rights of such victims as a law enforcement officer. Upon expeditious interrogation of the boys, it was established that the senior officer has been sodomizing them for an unspecified period.
"We thank the member of the public who provided information leading to the perpetrator's arrest. Equally, we appeal to Kenyans to continue making such reports anonymously, through the DCI emergency toll free line 0800722203, for decisive action by our detectives," a stamen by the DCI read.
The chief inspector was arrested pending investigations into the matter. The incident elicited mixed reactions from Kenyans:
@alinory_KWENA The suspect must be linked to the scene. This requires scientific approach in order to build a water tight case.
@AggreyMeighan Good job continue instilling the message that no one is above the law.
@ChegeDanko Wah. Pole to the victims of the hideous crimes and good job for rescuing them.
@Alexmutugi__ What did I just read?
@kalibouy_ke Mimi adi nimechanganyikiwa.
READ ALSO: 'Sodom', the hotbed of sodomy, rape, murder in Kiambu
What the law says
According to Section 162 of the Kenyan Penal Code, "Any person who has carnal knowledge of any person against the order of nature is guilty of a felony and is liable to imprisonment for fourteen years."
However, if found guilty, the chief inspector faces 21 years in prison as the Penal Code dictates so if "the offence was committed with that person's consent but the consent was obtained by force or by means of threats or intimidation of some kind, or by fear of bodily harm, or by means of false representations as to the nature of the act."