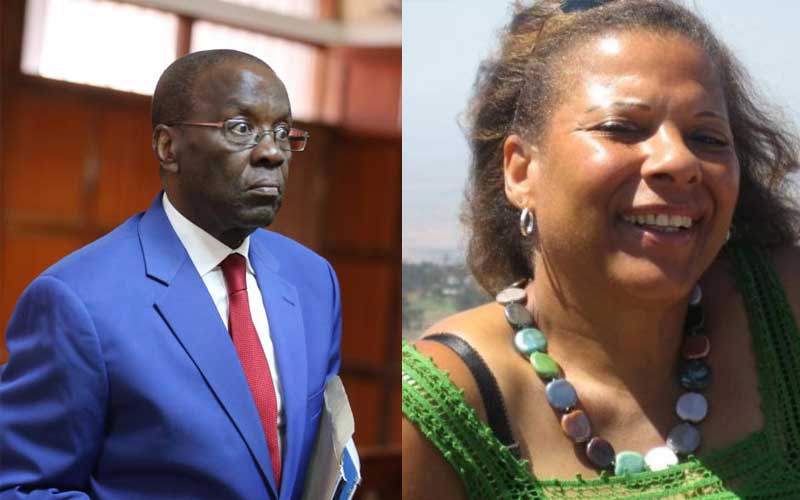 Former Chief Justice Willy Mutunga's ex-wife Beverle Michaele Lax has lost a bid to revive a divorce appeal she filed against him in 2015. The Court of Appeal had initially dismissed Lax's appeal against a High Court divorce ruling for her lawyer's failure to pursue it. She, however, went back, saying her lawyers never informed her that the case was coming up. But Court of Appeal Judges Asike Makhandia, Jamilla Mohammed and Sankale ole Kantai found that her conduct, while the appeal was pending, did not persuade the court to intervene.
READ ALSO: Beverle Lax accuses Chief Justice Willy Mutunga of not paying her maintenance fee
According to the judges, Lax filed a separate case to dissolve the same marriage at a San Mateo County Court in California, US, and never informed the Kenyan court about it. The court observed that the High Court had finally dissolved the marriage, hence her appeal had been overtaken by events.
"We cannot fathom the reason(s) for this action. Be that as it may, it does again point to the applicant as a person without candour. What the applicant is seeking from this court is really the exercise of discretion," the judges ruled.
The court found that if Lax was discussing with her lawyers about their pay, they must have informed her about the appeal. Lax told the court that she came to learn about the dismissal of her case in November last year when she temporarily visited Kenya. She narrated that she only managed to peruse the file on January 24, 2020 and could not have attended court as she was unwell. She said her then lawyers failed to inform her that if she did not pay their legal fees, they would not attend the court sessions.
READ ALSO: Willy Mutunga flaunts his daughter at Blankets and Wine
"There is no doubt that the applicant was in constant communication with her counsels who were irksome in demanding their legal fees and we, therefore, find it difficult to believe that she was not informed of the hearing date,"  the judges ruled.
Mutunga opposed her application and told the court he filed a divorce case against Lax in 2009. According to him, the court gave its judgement on July 26, 2012. Aggrieved with the High Court's decision, Mutunga said his ex-wife filed an appeal on September 18, 2015, but the case did not proceed out of her delaying tactics. He explained that when the case came up for hearing on November 18, 2015, Lax sought for Deputy Chief Justice Philomena Mwilu, who was then a Court of Appeal judge, to withdraw from the bench that was hearing the case.
RELATED ARTICLES