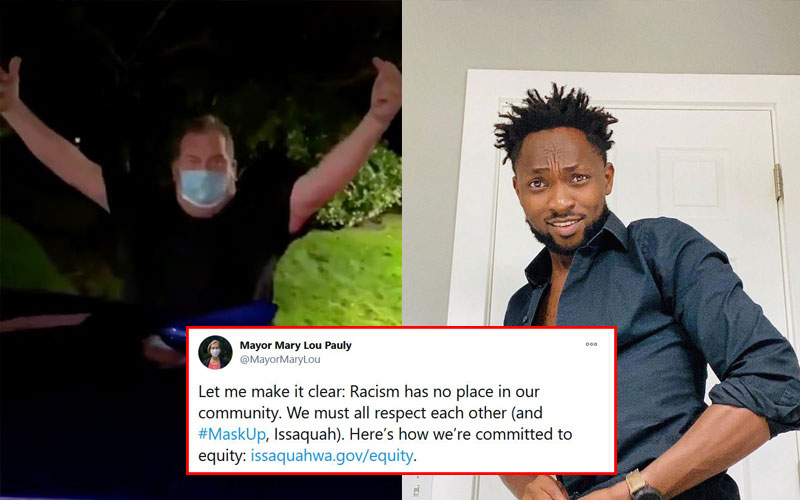 A U.S mayor has criticized the actions of a man who racially abused ex Churchill Show comedian David The Student. David, who works as a driver for taxi-hailing company Lyft bore the brunt of abuses from the seemingly drunk man in the November 17 incident. The man, who was in the company of a woman declined to wear a face mask prompting the former funny man to throw them out of the cab.
"He ignored me the first time, I repeated (it)and told him he's putting me at risk and all the other passengers I pick up after him. So I just pulled over and got out of the car and told them I have cancelled the ride, they can go ahead and get another drive," David told Newsweek.
READ ALSO: David the student in Hollywood, auditions for America Got Talent
In footage of the disturbing incident, the man is heard referring to David as a n*** before threatening to pee in his car.
"You're a f****** sand n****. F*** you," the man says before David cooly responds "Continue saying that."
"Here hold on, I'll feel better when I piss in here. Let me piss in your car," the passenger says before proceeding to unbutton his zipper. Meanwhile, David, who's filming the incident tells him to go ahead and pee in the vehicle.
"You will never drive(Lyft again)" the man says afterwards as David asks him "Are you happy now?"
"No, we expected a Lyft drive home," the female passenger responds.
This is what @MayorMaryLou is referring to. Happened tonight to my friend in Issaquah. pic.twitter.com/j4Lz23xG3A — Britt (@Britt_LaBster) November 19, 2020
Lyft ban
Following the incident which happened in Issaquah City, Washington State, the Mayor Mary Lou Pauly posted on Twitter, "Let me make it clear: Racism has no place in our community. We must all respect each other (and #MaskUp, Issaquah)."
Lyft also announced that they've permanently banned the passenger and reached out to David. The taxi-hailing company requires both the driver and passenger to wear face masks amid the covid-19 pandemic.
"There is no place for discrimination of any sort in the Lyft community, and this behaviour is unacceptable. We have permanently removed the rider from the Lyft community and are in touch with the driver to offer our support," Lyft tweeted.
READ ALSO: Celebrities, fans condole David the Student on losing mother
Racism
Coincidentally, David had shared a video highlighting white priviledge in the United States on June 5. In the video challenge inspired by the Black Lives Matter movement following the murder of Geroge Floyd by a white policeman, David revealed he's faced discrimination in numerous ways including being called a racial slur, unnecessarily being followed in a store, people crossing the street to avoid meeting him and being bullied based on race.