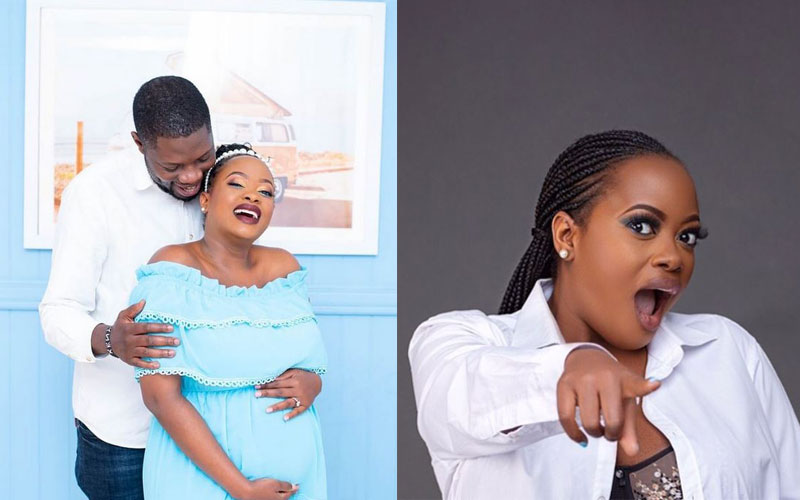 Media personality Janet Mbugua's sister-in-law, Tabitha Ndichu and her husband Tony Waswa are expecting their first child after battling fibroids for four years. Sharing the exciting news with her fans on social media, the YouTube content creator revealed that she had suffered four miscarriages and had been in surgery numerous times before God finally blessed them with the bundle of joy.
"Daddy, My God! You have singled me out to showcase your glory even after losing four children, being in and out of surgery and battling fibroids for four years. You still found me worthy. What can't you do? And today I get to be a shadow in your light, how I pray that this light falls on the lost and lonely," she wrote.
READ ALSO: DJ Mo opens up about his wife Size 8's miscarriage
Tabitha encouraged women trusting God for the miracle of a child to pray without ceasing with the belief that God will bless them too when the time is right.
"The ones who are waiting (while) asking why? When? How? May I remind them that you still have them written at the palm of your hand! At the end of it all, all things are working together for their good! Romans 8:28," she added.
Overwhelming feedback
Taking to social media in a separate post, the My Red Is Beautiful founder thanked her fans for the overwhelming number of messages they sent her after her pregnancy announcement, adding that the news had brought back hope to women waiting on God for a miracle.
"The highlight of my pregnancy announcement was getting messages from people who never knew me or followed me before saying; "I don't know you but you have re-ignited my faith in God and I believe that I will have a child of my own one day".
"This was my hope and prayer before even announcing, that I will be a reflection of God's light, my story will re-awaken hope for everyone who was on their waiting journey," she wrote.
READ ALSO: I carried a dead foetus for weeks- Nana Owiti's painful miscarriage
Dark times
Tabitha also revealed that she had lost her fourth pregnancy due to symptomatic fibroids back in 2018 but never lost hope of becoming a mom.
"Last year a time like this I was mourning the loss of my fourth miscarried child. I had lost my 4th child because of my symptomatic fibroids. In 2018 May I lost my triplets. Probably you have lost hope, closed that chapter and thought to yourself this isn't meant for me as a way to drown your pain.
"This year, Mother's Day celebrations trigger feelings of loss, darkness, frustration, anger and sadness. I want to encourage you to wait on Gods timing! In his time (not ours) he makes all things beautiful. God is still working even when you can't see it. Celebrate other mums, you will be planting a seed for your own miracle. If you can't, it's also ok. It's ok not to be ok, don't beat yourself up," wrote Tabitha.