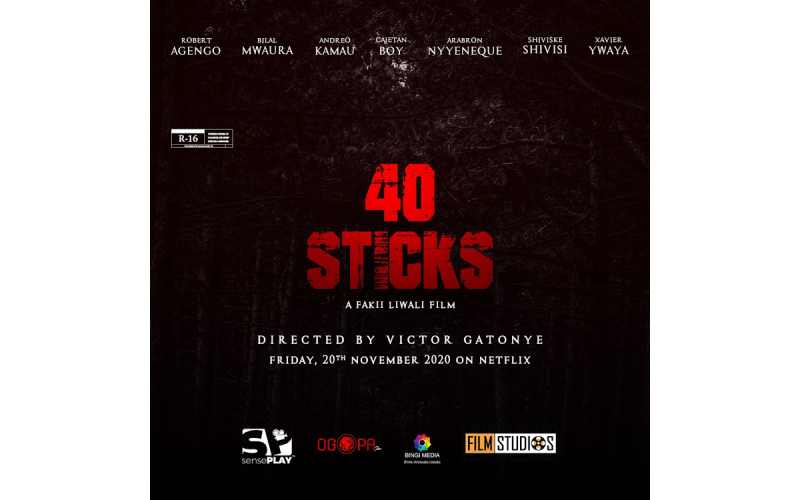 Kenyan film, 40 Sticks, is the latest local production to premiere on Netflix. The 95-minute movie is centered on a group of death row prisoners who are trapped inside a crashed prison bus. They are fighting for survival when they realise there is a mysterious killer lurking in the shadows. Filmed in Nairobi last year, the movie has been scripted in Sheng, Kiswahili and English. SensePlay, a local production house, partnered with Film Studios Kenya, Bingi Media and Ogopa Inc in making the film. Robert Ageng'o, Cajetan Boy, Mwaura Bilal, Arabron Nyyneque and Xavier Ywaya are among the cast.
The thriller, directed by Victor Gatonye, will hit the film channel mid this month, a month after two other Kenyan films, Sincerely Daisy and Disconnect premiered on the same channel. Poacher was the first Kenyan film to premiere on Netflix in September. Gatonye, has featured in other productions such as One in a Million, Dreamchild, Changes II and Kona both as an actor and director. "We picked a rare genre for Kenya and ran with it. The team did very well if I may say so myself," said Fakii Liwali, the film's executive producer.
"We are excited that we now get to show the world what Kenya is capable of. We hope Kenyans will give us a chance and watch the film when it premieres." While Sincerely Daisy, a film that introduced fresh faces to the Kenyan film scene, is about a young girl whose dreams and ambitions are about to be devastated. Disconnect, a 2018 romantic comedy has a diverse cast of experienced thespians exploring the dating scene in Nairobi.
Poacher delves into story of a farmer who gets into trouble after stealing a stash of blood ivory from a gang of international terrorists. The themes are easily relatable. Even though other Kenyan productions such as Nairobi Half Life and Watu Wote have received international recognition in the past, it is the current Netflix space and recognition that is bringing excitement in the local film sector. Watu Wote received an Oscar Awards nomination.
Also read: Sauti Sol makes history with super Netflix original deal
The Netflix recognition is a sign of growth for an evolving industry. "What you are witnessing now with Kenyan productions going to Netflix is just a tip of the iceberg. There are plans to spearhead that campaign. "We are looking forward to having other films go global as we seek to tell our Kenyan story," said Kenya Film Commission CEO Timothy Owase whose commission has been on the forefront of transforming the Kenyan film sector. KFC has rated 40 Sticks well. The film will be available in Africa, US, UK, Canada, Australia and New Zealand.
Also read: Kenyan films Sincerely Daisy and Disconnect now on Netflix
"We want to ensure that everybody involved in screen business can benefit from his or her work. At the Commission, we are championing that film business becomes a full time job and not a side hustle as it has been for some time," Owase said. "I want to be remembered as the person who transformed the film industry in Kenya."
Related Topics