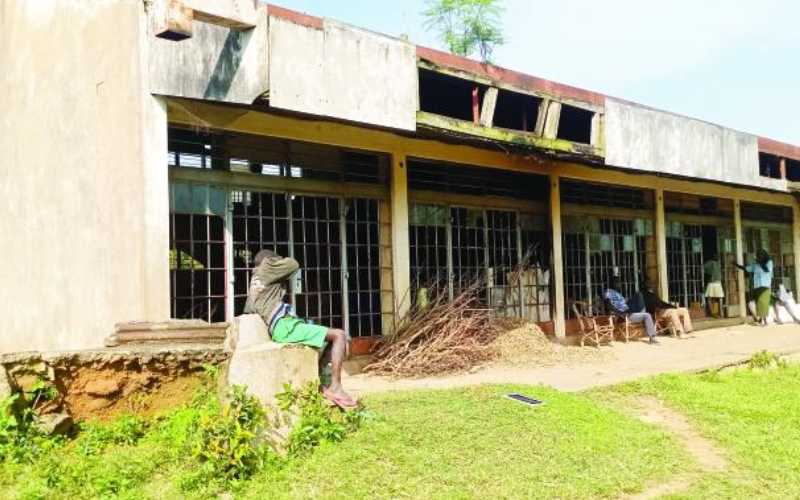 Ong'aroi Assistant Chief Andrew Odato was charged with arson in June 2016 after at least 10 houses belonging to one family were reduced to ashes.
The arson and destruction of property was attributed to inflammatory remarks Odato (pictured) made publicly following the death of a resident of Okame village in Teso South Sub-county. The assistant chief then claimed the man died as a result of witchcraft, which he blamed on one family.
As a result of the incitement, villagers descended on the said home and set the houses and a nearby church ablaze.
Odato and nine other villagers were then arrested and charged with five counts of arson.
They were charged with willfully and unlawfully setting on fire one iron sheet-roofed house belonging to African Revival Church, which had items in it, all valued at Sh238,000 on June 12, 2016.
They were also charged with setting on fire three grass-thatched houses belonging to Simon Oduya Ong'amo, with all household goods, poultry and livestock, all worth Sh1,039,450 inside.
They were also charged with burning two houses with all household goods in, the property of Samuel Orubia Ong'amo, valued at Sh541,000.
Odato and nine other people were also charged with burning the house of George Ong'amo, with all its contents, causing the victim a loss of Sh86,670.
Lastly, they were charged with burning two iron sheet-roofed houses belonging to Francis Ong'amo, which were valued at Sh248,500. Livestock were also cut into pieces by irate crowd.
Odato was found guilty of all the five counts and each count attracted 23 years in jail and they will run concurrently.
However, the nine other accused were set free after they were found not guilty. They are Evans Isogol, Beatrice Ong'amo, Hellen Agutu, Martina Atieno, Didimos Okedi, Peter Echakara, Agnes Ong'amo, Silus Ekesa and George Ong'amo.
Busia Senior Principal Magistrate Patrick Olengo said Odato's conviction was based on the evidence the prosecution and lawyers for the accused submitted to the court.
The argument by the administrator that the incident happened at night and that he was unable to visit the scene due to his security was rejected by the court.
The magistrate said the prosecution had proven beyond reasonable doubt that Odato contributed to the arson that left more than 32 family members homeless.
"When the houses were being burnt, he did not bother to find out what was going on despite being in-charge of the security of that particular area," the judgement read.
"He said he did not have the security but the torching of the houses started at about 8pm, which time I do not think was not safe for him to move to the scene."
Olengo said he was satisfied by the testimony of the prosecution witnesses who said they saw Odato at the scene and even recognised him by his voice that night. He said Odato betrayed the people he was charged with the responsibility of taking care of as an administrator by taking sides.
The victims are putting up in a house in Alupe, where national government officers took them after their houses were burnt. They have not returned to their home since 2016.
Odato, through lawyer Francis Omondi, pleaded for leniency, saying he was a first time offender and had children he took care of.