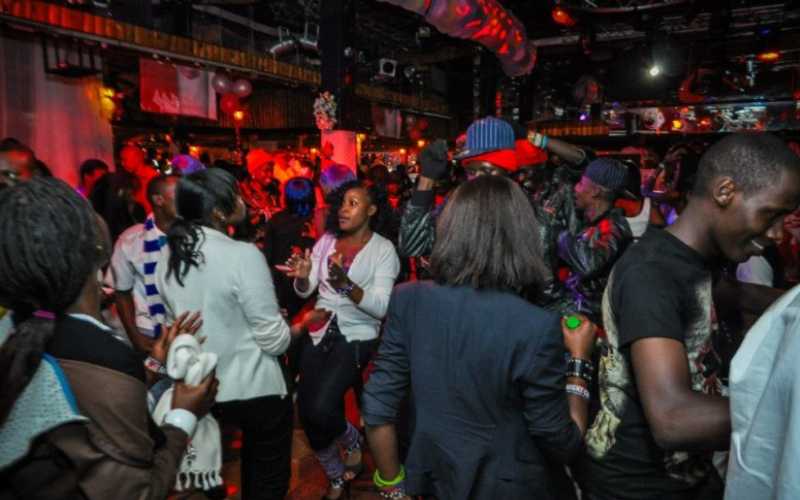 Two months ago, Mlolongo's Madharau Street was conspicuously sleepy. During a fact-finding mission, coming after the government had enforced closure of bars and the sale of alcohol, Madharau Street (translated as spite) – a name that was allegedly muted by commercial sex workers for their treatment of men of poor means who sought their services for as little as Sh50 – was as dead as a dodo.
The busiest street on Kenya's longest highway and its illicit business that has oiled its operation for years was experiencing a dry spell. Stage ya Juu, Stage ya Kumi, Stage ya Kusimama and Stage ya Wote – phrases used to describe Madharau – had no business, not even for the tens of Kamba music bands, most of whose songs are known for their vulgar and lewd lyrics make their living from there.
But now with Covid-19 sanctions on bars and clubs lifted, Madharau is steaming back with life. The noise is back, the bars are busy, drunkards sleep no more nor do the truck drivers. Again, the girls can breathe a sigh of relief. And with this, danger looms. "The corona talk is a corruption ploy by some rich people to steal government and donor money to build their empires," says Mutiso Muema, a resident of Mlolongo, as he dismisses the containment measures.
Also read: Magufuli tells Tanzanians to pray for Kenya to overcome Coronavirus
According to sources from the Health ministry in Machakos, this is one hot spot that is giving officials sleepless nights as Covid-19 numbers rise. It is where most Covid-19 cases have been reported in the county, a matter that is widely attributed to the ignorance of health measures on the pandemic. The situation is the same in other highway towns such as Emali and Sultan Hamud.
A quick survey shows that most people here no longer regard face masks neither do they care washing their hands or sanitizing while engaging in those social joints. With many living hand-to-mouth, they have turned the Covid-19 talk into a myth of 'a rich man's virus that does not exist among peasants'.
"The corona talk is a corruption ploy by some rich people to steal government and donors' money to build their empires. Why should we get concerned with all that, the poor man I am. Nitanunua sukuma ama mask (will I buy greens or face mask)," challenges Mutiso Muema, who here at this spirits store has Sh30 to spend on his night enjoyment.
"I earn Sh500 on a good day through my 'mkokoteni' business. With a family of five depending on me, I won't lie to you that I will start thinking of sanitisers or masks. Besides, doesn't this corona end, it has been a year now…," in broken Swahili, he digs on before taking another sip from his plastic glass whose content his friend asks for a share.
Here, the businessmen mostly have their business thriving at night and so as they allude, they have to find a way around law enforcers to operate past the closure hours.
"Hawa watu wamezoea kukula tu. Ikuwapa kama mia tano watakuacha usukume mpaka saa nane (these people - police on patrol – are used to bribes. If you just give them Sh500 they will let you operate till 2am)," informs one of the bar operators who asks us to keep his name anonymous. It could be this alleged collusion between police officers and bar operators that has everyone flaunting curfew and closure rules.
Also read: Influencer who thought coronavirus does not exist dies
And besides Covid-19, many people operating around this business especially those offering and get sexual pleasures risk getting infected with sexual transmitted diseases as they might not be able to account for protection gear due to poor earnings.
"Most people who were affected by salary cuts and job losses are low-income earners who are the main clients who seek sexual services from commercial workers. Some might not use protection as they might not have money to buy condoms while others find themselves psychologically unstable to judge between right and wrong after consuming the cheap drinks," says Martha Kiio, a counselor and health worker.       
It is the same scenario in Nakuru, one of Kenya's vibrant cities when it comes to nightlife. Here the club life too is vibrant and every bar operator seems to be recouping all they lost during the closure period. It is a situation that now has the Nakuru governor Lee Kinyanjui warning of a possible withdrawal of licenses for night clubs, bars and other entertainment joints.
This follows complaints by members of the public that most of these businesses were not compliant with the containment measures issued by the Ministry of Health. "We have recently recorded a spike in the number of Covid-19 cases in the county. It is unfortunate that bars have been found to be the most notorious in flouting the regulations given to stop spread of the virus," said Kinyanjui.
The governor pointed out that the county would not hesitate to withdraw their licenses noting that many have failed to control the behavior of their patrons placing them at risk of contracting the virus. "Although the bars have installed handwashing centers, they aren't enforcing their use. Sanitizing of surfaces within these premises has not been regular. Patrons rarely wear masks where necessary. We shall not stop at anything to protect lives including withdrawal of licenses," said Kinyanjui.
But as it seems, bar owners wonder why they are being singled out in this fight against Covid 19 as other sectors have already gone on a reset mode. Kisumu, where top Kenyan act Wyre will be leading a major gig together with reggae stable Dohty Family this Sunday is also in a party mood. Covid or no Covid, clearly, there is no stopping reggae.