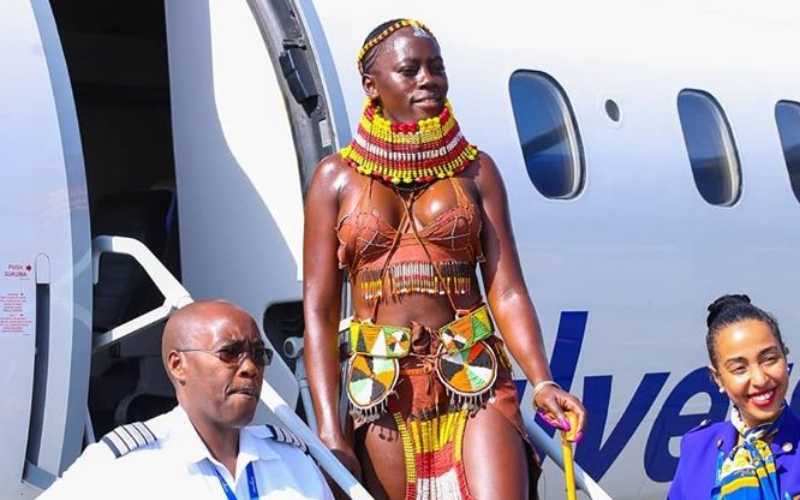 Popular Kenyan musician Esther Akoth better known by her stage name Akothee has revealed that she is unable to reunite with her three young children after France announced a second nationwide lockdown due to Coronavirus. Taking to social media, Akothee explained that she is not aware of the extent of the spread of the virus but prays that God protects her children who currently reside in France.
"France on Total Lock down. I have no idea of what is happening but trust me God has his own reasons as to why things happen the way they do. I now know how it feels working far away from your own children, may God keep every parent trying to make ends meet, my passport is the most useless document I have in my wallet right now. It can only take me to Rongo and other places but not France where my uterus and interest is.
"What's life, 'Life is full of challenges, but we shall live it the way it is,' May God protect my family," she wrote. About a week ago announced that her son Ojwang' was getting baptized but because of the travel restrictions put in place due to the second wave of Coronavirus in France, she was unable to be by his side. Akothee, however, thanked her baby daddy for standing in for her and making sure Ojwang' had an unforgettable experience at his baptism.
"Today my Son Ojwang is getting baptized, Water has finally taken its own course, Catholic moriere. I stopped fighting over which denomination my child goes to as long as he is raised in a church environment. I am late and I missed this big occasion due to Covid-19 restrictions, but hey thank God for co-parenting, papa and dad will represent me. However, a mother's presence on their children's big occasions can never be filled by anyone.
Speaking on her co-parenting, Akothee revealed that she and her baby daddies are finally on the same page and have a good relationship when it comes to raising their kids. "I am loving the co-parenting between me and my baby daddy's @princeojwang @oyootheprince. Fighting the battles of co-parenting stay strong if you are raising children in a broken family. Love you papa oyoo and papa ojwang. May God keep you for me," she wrote.
Also read: Cebbie opens up on her feud with sister Akothee
"When your partner is a Catholic and the children are with him allow peaceful co-parenting it's healthy for the kids, Ojwang got baptized today, I missed this big day. Corona you have won," added Akothee. In a separate post, Akothee revealed that she and her youngest daughter have not seen each other since December 2019.
Also read: Akothee says she loves and respects her three baby daddies
"I have not seen this specific uterus of mine since December, she lives on her own and goes to school, she is rarely on social media and always too busy with her life, when I grow up I want to be @fancy_makadia minding her own business," she wrote.