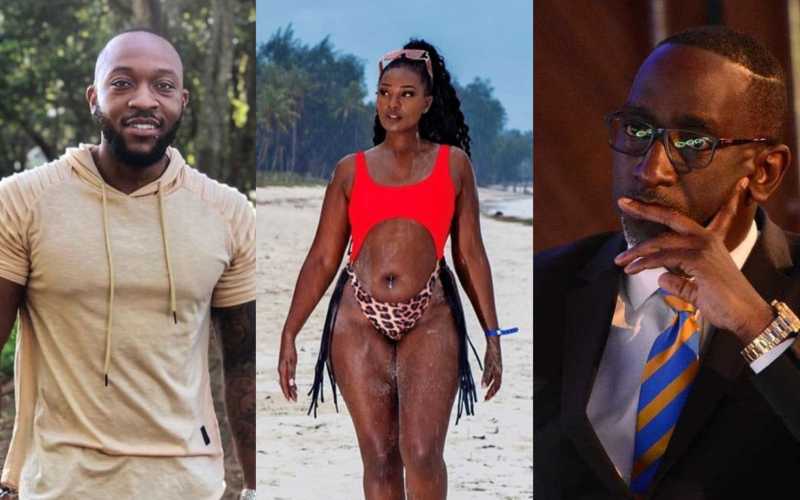 Popular preacher and motivational speaker Robert Burale has advised fitness trainer Frankie Kiarie alias Frankie JustGymIt and his baby mama Maureen Waititu to keep their personal problems off social media. According to Burale, netizens only want Maureen and Frankie to keep fighting for the sake of entertainment and not because they care about them. Speaking during a candid interview with Tamima Ibrahim, the father of one called upon Frankie and Maureen to refrain from washing their dirty linen in public.
"To Frankie and Maureen Waititu, I want to tell you something. You once loved each other. You have children based on the love and respect you had for each other. I wish you'd stop shaming each other. I wish you'd stop washing your dirty linen in public because the people who are commenting don't really care…
"If you came out and said we love each other and we have forgiven each other, you'd not have very many comments. But when you start abusing each other, 'this one did this and the other did this,' social media in-laws come in and start abusing you," he said. The city preacher went on to state that Frankie and Maureen's children will one day come across their parent's bitter exchange of words on social media and it might end up being permanently affected by it.
"However what you need to understand is that to your children, you are their heroes. So when they grow up, like Maureen rightfully said social media doesn't forget, they will see people who were abusing their mother and father and it might affect them. I want to tell them and any other person, please, don't fight on social media because these people don't care about you, they just love the fact that you are abusing each other.
"And guess what, you'll be left hurting each other, licking the wounds, children worried as they look for the next big story," he added.
Stand down and let love win
Burale advised the once loving couple to choose their children's happiness and well-being over their personal feelings, that way respect, love and honor will be earned, cultivated and maintained. "Allow me to say this, Frankie and Maureen are really good people individually, you can tell. I don't know them personally but I know they encouraged many people when they were together. All I can urge them to do is to stand down and let love win, let honour win and let respect win. At the end of the day you have children together.
Also read: Maureen Waititu calls out Frankie
"You may be in disagreement the two of you but always remember as long as you have a child with somebody, put the children first and if you can do that you will automatically respect each other. Social media in-laws want you to keep abusing each other," he said.
Also read: Frankie sets the record straight regarding his relationship with Maureen Waititu
Burale concluded by advising women not to blame themselves when the man they loved leaves them and starts a family with someone else.