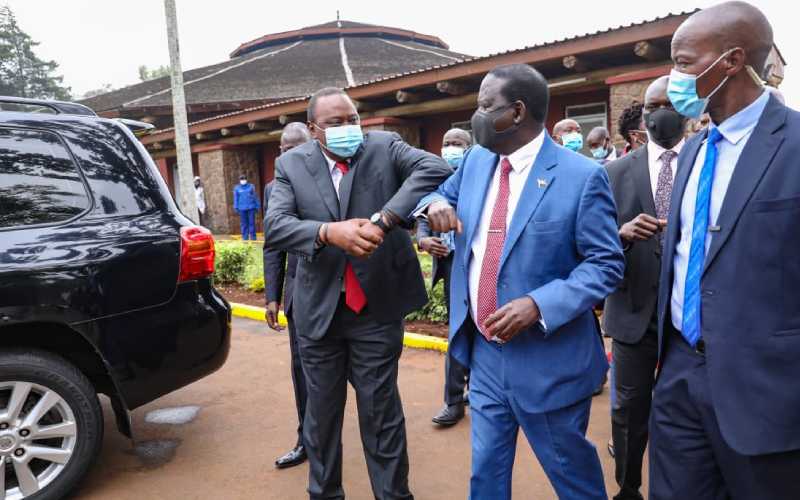 ODM Party Leader Raila Odinga has hit out at the Independent Electoral and Boundaries Commission (IEBC) for telling Kenyans that the upcoming referendum will cost Kenyans Sh14billion. Through a statement, Odinga stated that elections have become an avenue for ripping off the country and faulted IEBC saying the commission should be overhauled.
"Elections have become one of the major avenues for ripping off the country through various schemes that are never meant to save costs or yield credible results but to line pockets of individuals. Those schemes are evident in the IEBC's latest reasoning.
"That kind of impunity cannot be allowed to soil an exercise like the upcoming BBI referendum whose objectives, among others, is to stop the culture of theft of public resources and corruption in public offices. The upcoming referendum is also intended to bring sanity to our election processes including aligning the costs to the global trends. That message needs to get to IEBC," read Odinga's statement in part.
He added that IEBC's estimation of Sh14billion is outrageous, arguing that the referendum should not cost more than Sh2billion for 20 million voters. "In a country with government institutions including police stations, schools, national and county government offices and government vehicles in every corner in addition to a fairly well-developed transport infrastructure, we should be able to conduct a one ballot referendum at no more than Ksh 2 billion for 20 million voters.
"The Ksh 14 billion the IEBC is talking about is not only outrageous but also a manifestation of the institution's insensitivity to the changes Kenyans are crying for in the management of public affairs," said Odinga. Last week, IEBC Chairperson Wafula Chebukati poked holes in the BBI document saying the electoral body had been singled out as the entity whose establishment is sought to be removed by way of the proposed changes. Chebukati argued that the report (BBI) claws back on the gains made over the years on electoral management in Kenya.
Also read: DP Ruto to partner with Willy Paul in new project
"This targeted onslaught against the Commission is not new as it has been occurring after every general election since 1992. The sustained campaigns weaken and interfere with the independence of the Commission which is guaranteed under Article 88 as read together with Article 248 and 249 of the Constitution of Kenya 2010.
Also read: Haitaki makasiriko, Murkomen tells Ruto's hecklers
"The source of the current attacks on the Commission is founded on the outcome of one Supreme Court Presidential Petition No. 1 of 2017 and disregards all the other petitions where about 95% of the 301 election petitions were dismissed and the election results declared by IEBC upheld by the various courts, including the consolidated Supreme Court Presidential Petition No. 2 & 4 of 2017," said Chebukati.