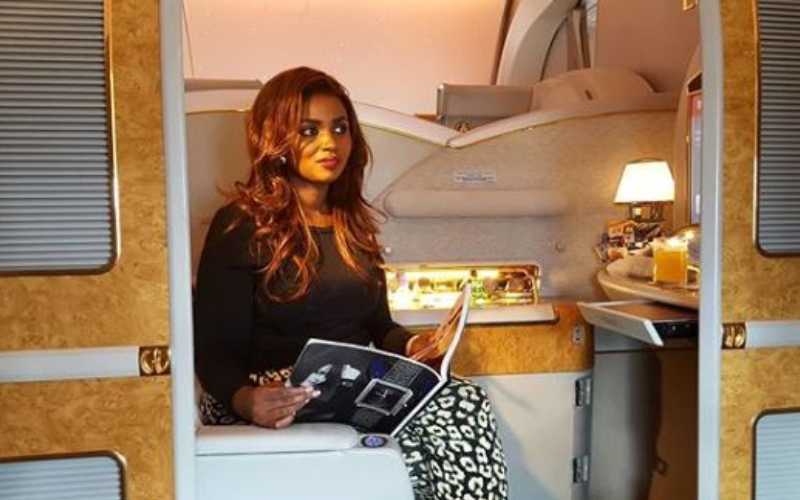 Keroche Breweries heiress Anerlisa Muigai has warned her male fans against following and unfollowing her multiple times on social media trying to get her attention. Taking to her Insta stories, the Nero Company CEO explained that she has noticed a trend in her male followers using the follow and unfollow tactic to call for her attention, something she is not pleased with, adding that they are only wasting their time.
"Those male followers who unfollow the re-follow again like 10,000 times to get my attention, please cut that cr*p. You're wasting your energy," she wrote.
About three weeks ago, Anerlisa confirmed that she and Ben Pol were not in good terms after a fan reached out to ask if she had seen Ben Pol's Instagram live session where he was chatting with an unidentified woman. Responding to the fan, Anerlisa admitted to trying to connect to the live but it was too late as he had already ended it. In addition, the famous social media influencer stated they were not okay citing mutual respect as the cause.
"Somebody called asking if I was aware that "my husband" was live talking things she couldn't understand, she even sent me screenshots. Unfortunately, I never got to watch but just to make it clear that we are not in good terms. I am a person who likes to protect my image and all I know is that I like being respected and any husband should do the same to their wife," she said.
Trouble in paradise
It was first rumored that the couple were going through a break up after Anerlisa unfollowed her husband and deleted all the pictures she had posted of him on her timeline. Although Ben Pol did not unfollow her, he went ahead to delete pictures of them together as well.
Also read: Ben Pol takes time off to do some cleansing
Not long after, Anerlisa took to her social media in a series of posts to advise her fans to guard their hearts and be careful of who they give it to. "If every problem in your life is 'somebody else's fault' you need to take a good look in the mirror sooner than later. You may not have control over what other people do (and that's irrelevant really) but how you allow that to affect and influence your life choices and emotions is 100% your responsibility. Life becomes much sweeter when you're in the driving seat of your own life. Out of you flows the outwards pictures and experiences of your life. Guard your heart with a double-edged sword…" she wrote.
Also read: Anerlisa to start a clothing line
Ben Pol, on the other hand, announced he would be taking a social media break to take care of himself and get some much-needed cleansing. "I think it's time to take care of myself and put myself first! If you are trying to reach me at this time, I'm sorry, I will contact you. I needed some cleansing to do (prayers emoji and love heart). God bless," posted Ben Pol.