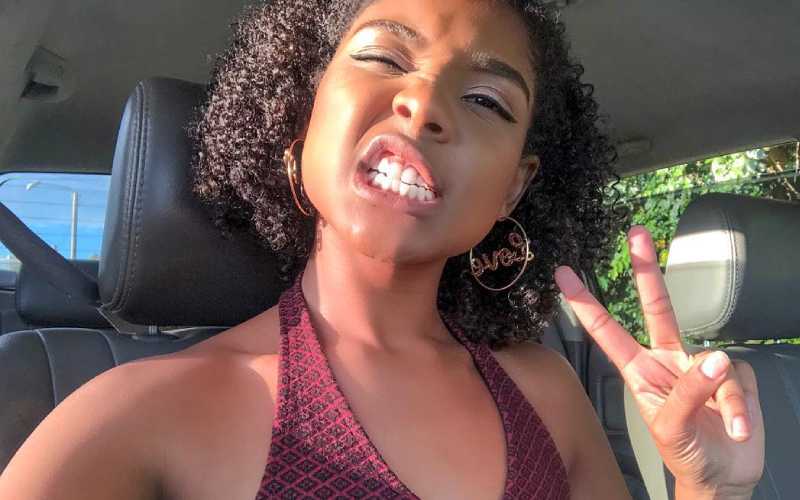 Popular YouTube and Instagram sensation Elodie Zone came forth to disclose frightful information on how she found herself in a position where she had to choose sexual assault or death or both. Sharing this information on her Instagram stories, the YouTuber turn influencer narrated how she found herself in such a compromising situation.
"Finally, home safe. Had a really bad ending to the night yesterday. Nairobi is so dangerous! I thank God for my life-I genuinely didn't think I'd make it to see this day. Imagine having to pick between sexual assault, death or both. I'm completely drained," she wrote.
According to her, she had been in the company of someone who left her in a vulnerable situation. This person, as she explained, was someone she valued as a friend. She advised ladies to choose their friends wisely and always have someone that can stand to protect them. "Ladies, have friends and be with a man that'll protect you. You never want to hit the ground unsure of who will and won't be there to catch you. My experience last night was an eye-opener. The closest person to me left me in a position where I could have died. I would never wish that on anyone!" she pointed out.
In 2018, Elodie opened up on one of the lowest moments in her life - going through hell shortly after her publicized break up with Sean Kibaki. "There are three times in my life that I have really gone through hell. The first time was when I was around 14 or 15 people used to call me a whore, they used to say I was sleeping around. I wasn't doing any of it, I didn't really do a lot and people would still talk about me and it sucked," she said on YouTube.
Speaking about her relationship with Sean Kibaki, Elodie shared that it was toxic and was made worse when the two went separate ways. She claimed that after the breakup Sean's family and friends subjected her to ridicule, making their break up even more dramatic than it should have been.
Also read: Elodie reveals her new man after break-up
"I found myself getting into a serious relationship which was public and after it ended, a lot of backlash started coming to my direction from his family and his friends. He had been posting a lot of lies about me online, he had been contacting media houses and so this thing essentially blew up. It really hurt me because it wasn't just dealing with my first real break up from a relationship…but it now came down to media houses, people I don't know, that I've never met talk about me," she revealed.