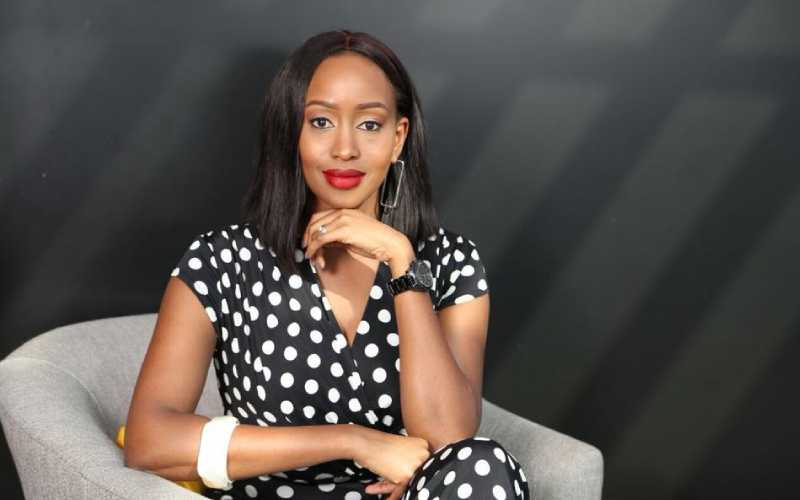 Popular media personality Janet Mbugua's firstborn son, Huru Ndichu just turned a year older. In celebration, Janet who was previously on a social media break shared a heartfelt message wishing her adorable 5-year-old a happy birthday.
In the post, Janet recalled when she was still pregnant with Huru and pranked her co-host, Hussein Mohammed on air that she was going into labour. "Happy 5th birthday Huru! It was just the other day I pranked Hussein on National Television pretending I was going into labor. Now here you are, jumping for the stars and making us love you more each day. God keep you always. #5already #MotherAndSon#HappyBirthday," she wrote.
Much needed break
Janet's message to Huru comes not too long after she made a social media comeback after days of being off the grid.  The former Citizen TV news anchor had earlier announced her departure from the online space citing health reasons. In a post shared on her Instagram, the mother of two revealed that she was unwell and needed ample time to rest and unwind.
"Life has a funny way of creeping up on you. One minute you can be up and about enjoying life and all it has to offer and in the next minute, you are on a drip, sipping liquids and not the good kind. As I write this, I now understand more than ever, the importance of being in tune with your body, something I was doing previously and then I let it slip," she wrote.
Also read: Janet Mbugua hits out at churchgoers defying Ministry of Health directives
In 2019, Janet took another social media break, this time to be present for her family as she had been working tirelessly to push for improved menstrual health management policies to be implemented in the country. Sharing news of her temporary exit from social media on her Instagram page, Janet thanked all those who took part in the signing and campaigning for improved menstrual health management services in Kenya.  
"It's been such an incredible week! A lot of it spent online and now it's time to be present offline, at least for a bit. A huge thank you to you who've participated in such key conversations around social issues, particularly on health and gender rights. A special thanks to those who've signed and shared my petition. Let's get more signatures on there!
Also read: My first salary was Sh100,000 — Janet Mbugua on humble beginnings
"The more the voices, the better the progress. I'm bummed that I won't make it to the Women Deliver Conference in Vancouver this year, due to unavoidable circumstances. For our national champions going, like @nicelengete and @josephinekulea among others, make us proud! To all of you, Happy Madaraka Day 2019, see you all soon!" she wrote.
Achievements
Known for her passion in all matters women, Janet's women foundation Inua Dada was recently named among 7 other organizations in the world working towards ending period stigma and poverty. "In an effort to address menstrual inequality, one period at a time, @dominikakulczyk, a Polish philanthropist and founder of the @kulczykfoundation, searched for the most efficient and cost-effective programmes addressing period poverty globally, in her report 'A Bloody Problem; Period Poverty, Why We Need To End It And How To Do It'. @InuaDada, alongside 7 other organizations were named, a great fete for many who are working to end period stigma and poverty," wrote Janet.