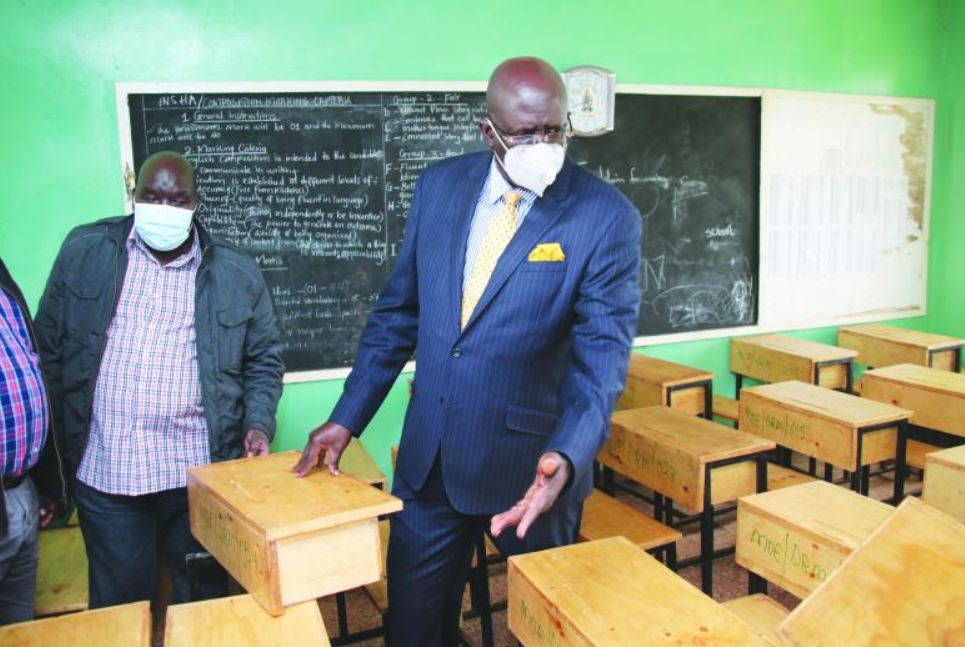 Education Cabinet Secretary George Magoha has said the Cabinet was yet to consider the decision to reopen schools for other classes. Speaking at Dr Muthiora Primary School in Dagoretti constituency where he went to assess the status of supplied desks, Magoha said the government was not in a hurry to execute the phased reopening of schools, noting the rate of Covid-19 infections was spiking.
"I want to clarify that the government has not authorised further opening of other classes, both in public, private and international schools. That decision is yet to be considered by the Cabinet and when we get to the answer, the nation shall be told," Magoha said.
ALSO READ: Video of unbothered Magoha during #Jerusalemachallenge goes viral
He added: "For now, we are not also in a hurry as we can all see that Covid-19 rates are spiking, so let nobody attempt to be smart to open schools for certain classes. Those classes that were not opened before must remain closed until the government advises otherwise." He said for those who do not abide, there shall be consequences.
At the school, Magoha found that some of the desks produced were substandard. He put the carpenters in charge to task and gave them a week to ensure the desks were produced to the required standards.
ALSO READ: Magoha asks principals not to send learners home over fees
"These inspections will be extremely important because from what we have seen here, this matter has been taken a little carelessly. The government is not going to allow that to happen; we shall ensure desks made are up to expected standards for our children and that they are delivered," Magoha said.