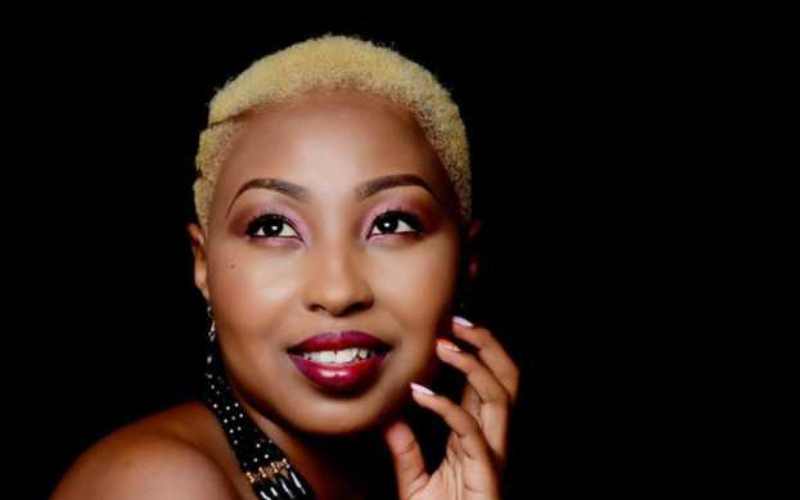 Kenyan Songbird Vivian Wambui better known by her stage name Vivianne has come out to explain why her husband, Sam West, has been missing from her social media timeline for close to a month now. Opening up in a lengthy post shared on her Instagram page, the Chum Chum crooner began by recalling her beautiful engagement surprise that sent social media into a frenzy after it was streamed live for millions of Kenyans to see.
"Today I want to be very candid… I want to speak very openly…  The world first met @samwestke when he decided to propose on the biggest TV show in the country. I was shocked and this was unexpected for me. I couldn't say yes or no so I sat there in front of 40mill Kenyans hoping the world would swallow me but it didn't, so I smiled.
"First forward I have worked with Sam West and been his woman for 4 years. So to get to the point this post is for you who understands that what society has labeled as marriage is one of the hardest things to exist in," she wrote.
The singer however went on to admit that the last few couple of months have been difficult on their marriage and because of this she decided to stop posting pictures of Sam on her social media to avoid giving the illusion that her marriage was perfect and they were in good terms.
Also read: Vivian's boyfriend proposes on national TV
"We are two humans who have learnt the hard way. We are friends and we will always care about one another. Our union has however taken a kick to the stomach. IG in-laws can attest to the fact that I haven't posted Sam on my feed for the past one month or so. We felt it would be important to share the truth that marriage can get difficult," she added.
Warning against living up to social media set standards as a celebrity couple, Vivianne advised individuals to be true to themselves and live their lives in the most sincere way possible to avoid pleasing people that didn't care about them. "Social media couples have created illusions of perfect marriages which we feel are quite misleading... To be honest we have ignored each other's needs in our union. Expectations and control took over our relationship."
Also read: From malimali seller to songstress
This is not a publicity stunt
Vivianne went on to affirm that her marriage was still not in a good place and that her post is not in any way meant to act as a publicity stunt to get people to start talking about them as most celebrities are used to doing. "We are in a tough space and to be honest we are hoping we will overcome the current challenge. This is not a publicity stunt. For those who love even one of us remember us in your prayers. May God's will be done. In the meantime, if you find someone that treasures you never take them for granted, #najua," she wrote.