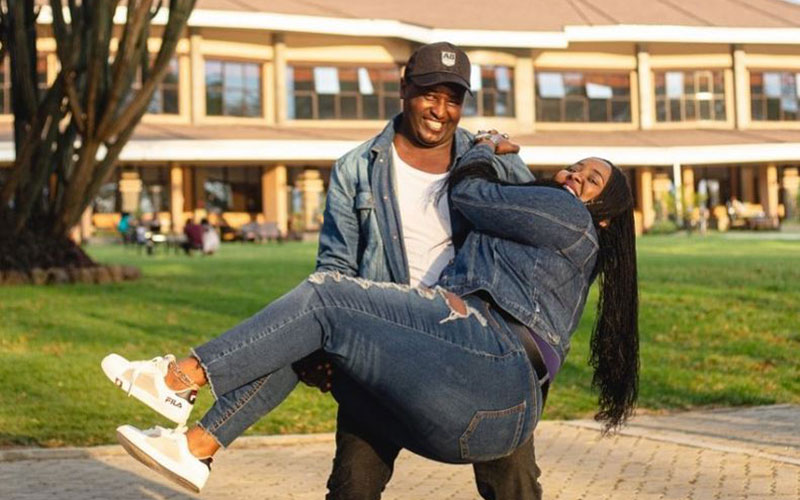 Did you ever fall in love during your school days and pictured yourself getting married to that person? Well, it happens to many people, most of which end in tears. Lawrence Macharia better known as Terence Creative went through a similar experience only that his relationship ended earlier than he had anticipated.  Recalling his school days with a throwback picture of himself on social media, the funnyman explained that due to the school rules, he and his girlfriend had to call it quits and concentrate on their education as per their school principal's request.
READ ALSO: Terence Creative sheds light on 2019 affair, how it rocked his marriage
"Here I used to refer to myself as "Mzeiya". I had just gotten a new girlfriend, she was a Kamba. I had to do such poses so that she knows who the boss is. Two weeks later we broke up because the principal said all relationships in school were banned. The man on the right is my classmate, we used to call him Kasota," he wrote.
Challenges
Terence has gone through a myriad of challenges to get to where he is now, including being addicted to drugs at a tender age and living in the streets.  Opening up on his life journey on social media, the father of three revealed that he dropped out of school and turned to drugs.
"We grew under my grandmother's house that was too small to accommodate my brothers plus my uncles. At times I thought I could walk out and go look for food. That is when I became a street kid for seven years."
The comedian is however grateful to his wife, YouTuber Milly Chebby who stuck by his side and encouraged him.
READ ALSO: Terence Creative avoids questions on alleged beef with WaJesus Family
"It has been a struggle quitting, my wife pushed me to stop smoking, for more than 3 years, I never kissed my wife because of the stench, it was a turn off to her, it affected my marriage. I sat down and realised I have some goals that I need to reach and I would not accomplish them with gambling.  One year ago I was a smoke slave. I couldn't function without smoke, I kept it to my mind that I needed to smoke to be more creative. Later on, I realised it was just a myth. I prayed to God and said to myself I will quit. I prayed and told God to free me because I'm his child, and He did," said Terence.
Despite their relationship going through a rocky patch at after Terence cheated, the couple has managed to stick together.