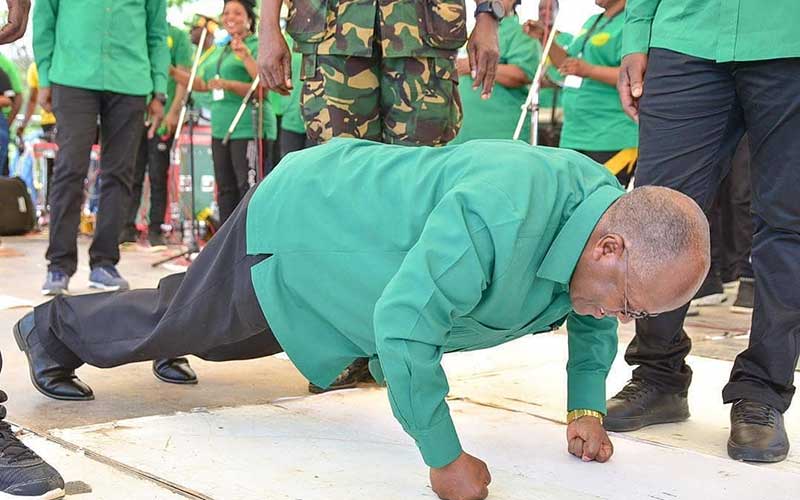 It seems heads of states across East Africa are keen on proving their youthfulness and commitment to lead their countries, by doing push-ups! Months after Uganda's Yoweri Museveni shared a workout video doing pushups, Tanzania's incumbent president John Magufuli who is on the campaign trail ahead of the October 28 General Elections has followed suit. Magufuli, who's seeking his second term on the Chama Cha Mapinduzi (CCM) party ticket recently did pushups, perhaps to indicate he's strong enough to continue leading the country.
READ ALSO: Moment speeding lorry rams into crowd during Tanzania election campaigns
Opposition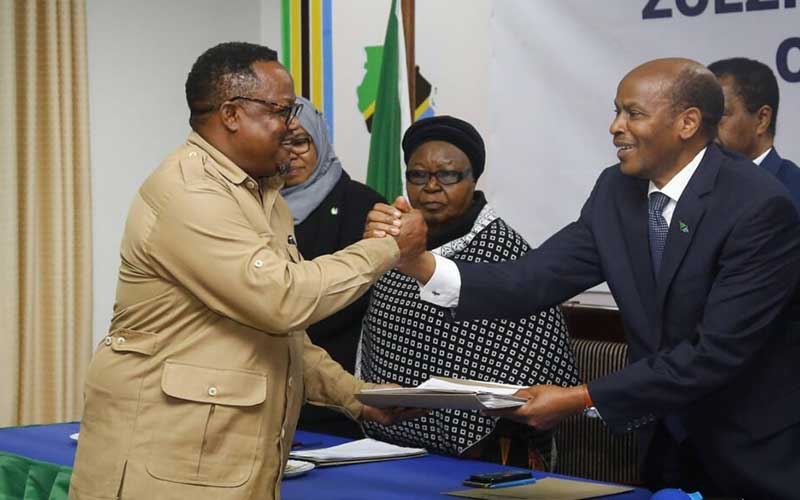 During his tour of Korogwe Town in the Tanga Region on October 2020, Magufuli, dressed in CCM's green colours was seen beating drums and dancing before doing seven pushups. The 60-year-old whose main opponent is Chadema Party's Tundu Lissu has been crisscrossing the country accompanied by top Tanzanian musicians to ramp up support for his candidacy. Lissu's campaign on the other took a blow after he was suspended from election campaign activities for seven days by the National Electoral Commission (NEC), a move Chadema termed 'unfair, illegal and unacceptable'. The electoral body said that the ban effected on October 3 was a consequence of the opposition leader allegedly breaching the election's code of ethics.
Museveni's workout
Museveni on the other hand showcased his push-up capabilities on August 5 in a workout video encouraging Ugandans to exercise at home after banning outdoor exercise to halt the spread COVID-19. In the caption, the 76-year-old who's been in power since January 1986 said he'd done 40 pushups. While the pushup video was timely, some netizens opined it had a deeper message- that he has the strength to rule Uganda.
READ ALSO: Bobi Wine and Kizza Besigye join forces against Museveni
After work last night, I challenged my Bazukulu to an indoor work-out. We did Forty Push-ups.

Just like I have always advised, even at your own home, you can stay safe, and remain fit and healthy. pic.twitter.com/LKjqwViwlE — Yoweri K Museveni (@KagutaMuseveni) August 5, 2020
President Museveni's bid for a sixth term in office is facing fierce opposition from youthful singer-turned politician Bobi Wine, real name Robert Kyagulanyi Ssentamu. In 2018, the Kyadondo East MP accused the Museveni-led government of torture after being arrested. Recently, security forces raided the offices of his National Unity Platform (NUP) party in Kampala and carted away "People Power" red berets, T-shirts, and other election materials.  The 38-year-old further claimed that the police also made away with Sh600,000 meant for the nomination of NUP parliamentary aspirants.