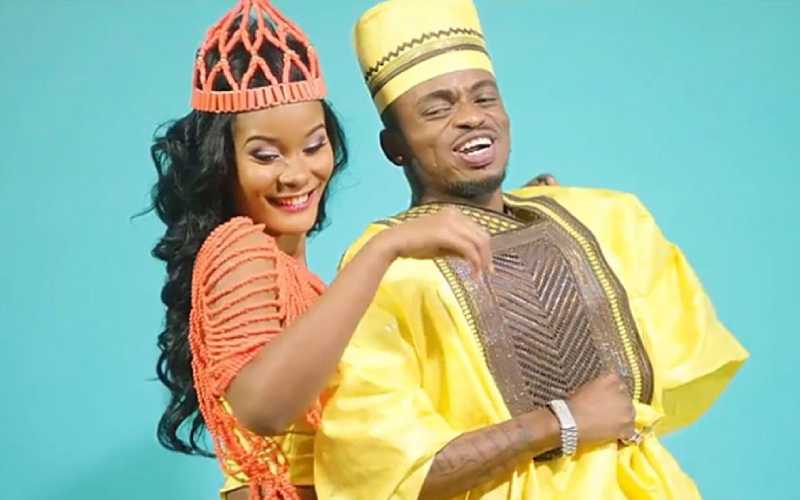 Tanzanian socialite and businesswoman Hamisa Mobetto has for the first time disclosed that she miscarried three times before giving birth to Dylan. Speaking in an interview with Wasafi TV, Hamisa further dismissed rumours that Starehe MP Jaguar fathered her son, Dylan.
"People used to post photos of my son and that of Jaguar's comparing them, saying they were brothers. Something that I don't like. At the start, it used to get to me because I've never met Jaguar in my entire life. Neither have I had his contact or been close with him," she disclosed.
The mother of two went on to narrate how Diamond requested for a DNA test after the rumors rocked social media. According to her, Diamond was rather uncomfortable about it but went on to request for the test anyway. "After the controversy surrounding the paternity of our son, he texted me and told me, 'I know it's not right but I would like us to have a DNA test'," she said.
The Tanzanian model went on to add that upon agreeing, Diamond seemingly shied away and never showed up for the test as they had agreed. "We agreed on a day and I went to the hospital with my son but he didn't show up. I tried to reach out to him in vain. That day he didn't get back to me. The following day he called to say he was busy," she added.
However, to prove the naysayers wrong, Hamisa was patient with Diamond and they eventually conducted the test. "We planned for another day and he picked us and we went together to the hospital. We did the DNA and after two to three weeks, the results came back and it was confirmed Dylan was his kid," she narrated.
Also read: Mimi Mars denies dating Diamond
Hamisa also revealed that the two had been trying to conceive for a while without success despite the fact that Diamond was in a serious relationship with Ugandan South Africa based socialite Zari Hassan. According to Hamisa, she lost her first pregnancy with Diamond when she had travelled abroad.
She then got pregnant for the WCB boss for a second and a third time, miscarrying the pregnancies again, but on their fourth attempt, they had their son Dylan. "If there's someone who was 100 per cent sure that Dylan was his kid, it was Diamond. I suffered three miscarriages before I gave birth to Dylan," she said, adding: "During the pregnancy, we were together until the day I went to give birth."
Also read: Diamond wants to settle by 2021
Rumour has it the two on-and-off lovers have rekindled their love after the 'Baba Lao' hitmaker broke up with Tanasha Donna in March, but Hamisa rubbished the claims. "We talk a lot because we're co-parenting. My son used to visit him when Tanasha was still in Tanzania. Diamond was the first to know Tanasha and I communicate before anyone else knew." She revealed.