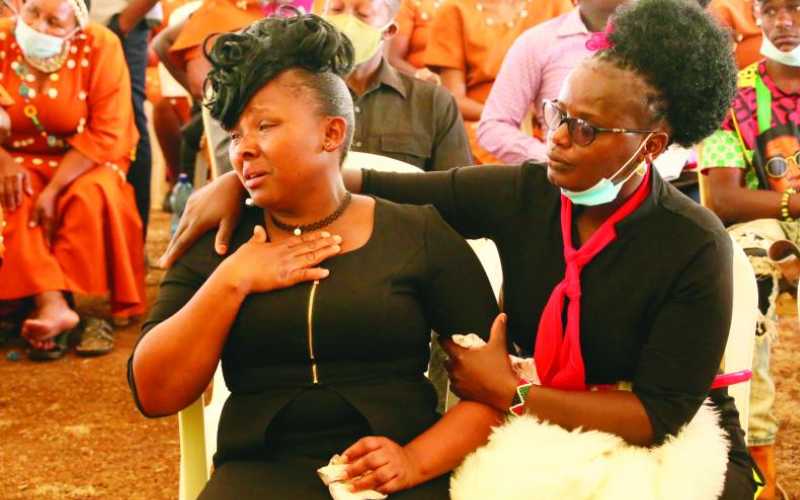 Mourners at a funeral service for two young men who died at Kenol, Murang'a, two weeks ago have blamed politicians for what they describe as their untimely deaths. During the emotional service at Mt Kenya University, friends and families of the victims said the deaths of their kin could have been avoided.
Christopher Kariuki 22, and Peter Mbothu 15, died when skirmishes between rival political factions erupted minutes before Deputy President William Ruto arrived at a fundraiser at AIPCA Church in Kenol Town. Kariuki was laid to rest in Munyu, Thika East, and Mbothu was interred in Ithanga, Murang'a.
Mourners say the two, who were not involved in the skirmishes, were caught up in the fracas as two groups engaged in a fight. Kariuki's widow, Lydia Wangui, eulogised him as a friend and a wonderful husband. "You were a remarkable man, dependable, loving, caring and most of all, the best dad to our son Levis Mungai Kariuki," she mourned.
A day before he met his death, Kariuki had informed his wife that he would be going to Murang'a where he had been offered a day job at a hotel. Another friend to the deceased, Kariuki Njuguna, described him as a staunch Catholic and a committed family man.
"Kariuki was my friend who worked diligently, he didn't deserve to die at such an early age," Njuguna said. His sentiments were echoed by other mourners who called for speedy investigations into the incident. It emerged that prior to his death, Kariuki had been engaged in the Kazi Mtaani programme.
Speaking at the function, Gema Youth Forum denounced the politicians who use the youth to cause chaos for their selfish interests. Led by John Ndonga, the forum decried that they are being denied opportunities to participate in national forums, saying leaders were intent on keeping them poor so as to exploit them.
Also read: Chadwick Boseman died without a will
Ndonga blamed politicians and especially local MPs for withholding resources meant to empower the youth, in favour of sycophants. "The bureaucracy involved in the disbursement of money meant to empower the youth has forced many to keep off," Ndonga said.
He called on President Uhuru Kenyatta to create an enabling environment where the youth can engage in worthy ventures and their businesses can thrive. At the same time, Kimani Maigua, the chair of the Gikuyu Council of Elders warned that the country was slowly going towards a situation that could plunge it into chaos such what was witnessed in 2007/2008 during the post-election violence.
ELECTION VIOLENCE
"I witnessed the election violence in 2007 and I can tell you, you do not know the value of peace until it's gone," Kimani said. He added: "We still have two years to the next General Elections and yet we are already witnessing such violence. Young people are being incited among themselves by politicians who are pursuing their own interests." Another elder, Muthamaki Ng'era of Kiama Kia Ma conducted traditional healing prayers for families of the dead young men.
Also read: DJ Evolve, family seek to drop attempted murder case against Babu Owino
The council of elders has pledged to buy land for the families of the deceased. Kihungi Mbothu, whose 15-year-old son, Mbothu, died in the Murang'a skirmishes cried for justice.
Related Topics