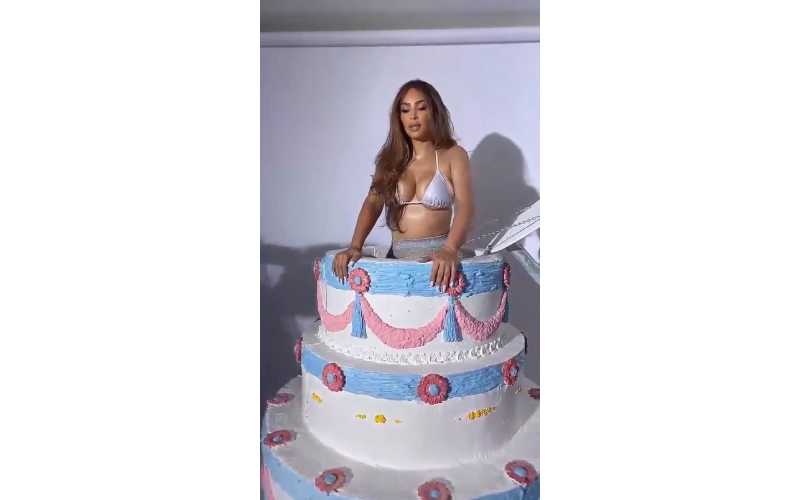 Kim Kardashian has been snapped emerging from the top of a giant cake in an eccentric birthday photoshoot ahead of her 40th birthday next week. The reality TV star turned fashion and make-up mogul got the party started weeks early as she took part in a special photoshoot to mark her milestone day.
Defying her years, Kim was looking flawless and completely wrinkle-free as she smouldered at the camera. All while acting as a candle as she popped out of the top of a giant homemade cake. The 39-year-old even managed to look glam while awkwardly positioning herself to accentuate her ample assets at the camera in a tiny silver bikini.
The telly star donned nothing more than the tiny swim top and a pair of see-through trousers as she left nothing to the imagination. The Keeping Up With the Kardashians star kept fans up to date, posting a behind-the-scenes video of her shoot to her Instagram story for her 190 million followers to enjoy.
Also read: Kim confirms the end of Keeping Up With The Kardashians
The mum-of-four posed for the camera as she teetered out the top of a three tiered birthday cake in a pair of sky-high Perspex platform heels. The shoot was to capture promotional shots for her new self-titled KKW beauty line, in honour of her upcoming 40th birthday.
The new range - entitled Opalescent Collection after Kim's birthstone, the opal - will be released at the exact time and date Kim was born so fans can get in on the birthday action too. The set will include pressed powders, semi-matte lipsticks and lip glosses in a series of popping shades picked out by Kim, to help people mimic her signature look at home.
Also read: Khloe Kardashian accused of changing looks to mimic Beyonce
Mum-of-four Kim previously revealed that she has been pouring her heart and soul into a gruelling exercise regime to make sure she's looking her absolute best for when she turns 40. "To feel good, I just want to get it like, a really good goal weight, and so that means working out at all costs" she said in an Instagram video in January.