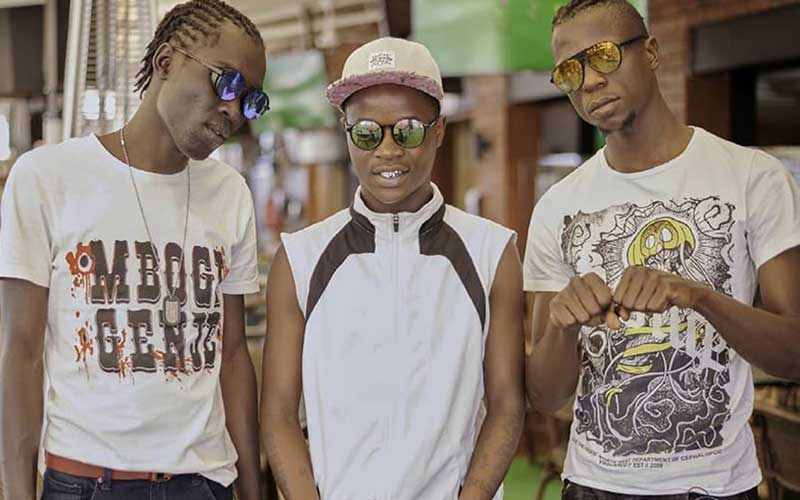 As anticipated with the resumption of partying, corporates have started approaching popular artistes. Such was the case with rap trio of Mbogi Genje, whose rise to fame came during post-Covid –19 period.
The artistes, who reside in Umoja Estate, have now been endorsed as the ambassadors against youth and drug abuse by the RFH Health Care. "We are opening a drug and rehabilitation centre and we have identified Mbogi Genje as best to work with because of their rapport with the youth," Dr Maxwell Okoth said as they signed the deal. 
The group was all smiles with teetotaler Militant Govana saying: "It's a project we are really keen on because we have seen firsthand the youth in our hood struggle with addiction." Looks like the boy group is smiling all the way to the bank after their meeting with Governor Sonko.
Elsewhere, as heard by Standard Entertainment and Lifestyle, a Camp Mulla-Barak Jacuzzi track produced by Addison called "Want You Back" has surfaced.
Nostalgically fulfilling, the song is reportedly supposed to feature in Camp Mulla's apparent sophomore album that has an unknown title, but is rumoured to be complete and in the vaults. The tune is a bouncy feel-good record about expressing love for an ex that got away, with a party-like vibe hooked to it.
Also read: Wahu, Nameless love story
Karun and Taio kill the hook and remind us why the group was untouchable and can easily reclaim the fans' hearts if they wanted to. Barak takes the adlibs and first verse gassing his collaborators all through as they exchange crucial chemistry all over the jam. The throwback feel jam is a poppy fun tune that sees Taio flex his bars like "Baby mimi sasa niko Forbes, so do you wanna kick it girl, the choice is yours" among other fresh one-liners, while Shappa's playboy is still intact on the last verse.
Also read: Tetema producer heartbroken after studio is raided