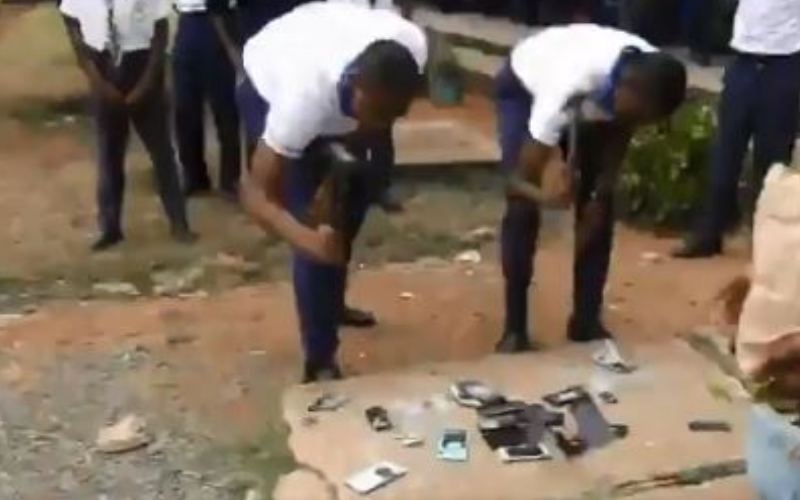 A video of a teacher instructing students to destroy their phones in school has surfaced online, generating an interesting debate. The undated video was first shared on Twitter where the students are seen using hammers to crash their phones. We could not verify the exact location of the school but the teacher can be heard speaking in Swahili as he tells the students to ensure all the phones are destroyed. Seems like the phones were confiscated during a routine search in the school.
Online, netizens weighed in on the issue, some agreeing with the school administration for enforcing the rules while others said the move was barbaric in this age. "Happening in 2020 in Kenya? This is totally unacceptable. Ignorance. Foolishness. World over students go to school with phones. Instead of destroying them, why not improve their IT skills based on the same? Hii ni ujinga gani sasa?" asked Lord Abraham Mutai.
Fonce Ochuka: I support the policy; parents should not allow children to go to school with phones.
Ariko: Master I disagree,the kids have already gone against the school rules,they knew the right thing to do but opted to defy, let them learn from it.
Seth Kibet: What do the school rules dictate, no phones allowed!! The reason we can't move forward is because we think there are lesser laws/rules than other. So they can come to school with liquor and bang too.
Lord Shuga: Your post is laughable... Going to this school they knew very well that phones are forbidden and they decided to disregard those rules and if it's to build their ICT skills schools have something called ICT labs am sure u are familiar with that.
Cyprian Ongeri: The guys who used to sell biscuits to us in the dorms are now super rich businessmen out here and those of us obedient students tunazidi kutafuta kazi tu... If only these teachers knew…
Mwangi: Just keep the phones and had them back when school closes, but the primitivty of this teachers won't allow them to do so.
In most schools in Kenya, teachers and prefects conduct inspections when students return from holidays to ensure items like phones, knives, liquor, cigarettes and bhang do not make their way into the dormitories. Some schools also ban drinks from outside since students often lace them with alcohol. More often than not teachers destroy any items that are not required in the school compound or withhold them until the term ends.
Also read: I bought my first Range Rover at 26 — Oscar Sudi
During the examination period, some students sneak in phones that they later use to communicate with outsiders as they try to look for examination leakage. Some have also used phones to plan arson attacks in schools hence the strong stand adopted by some school heads.
Although a degree of rationale should be employed when dealing with such issues, it is important to encourage a culture of obedience and respecting authority. In Kenya, Grade Four, Standard Eight and Form Four students reported back to school this week in preparation for national examinations set for next year due to the disruption caused by Covid-19.