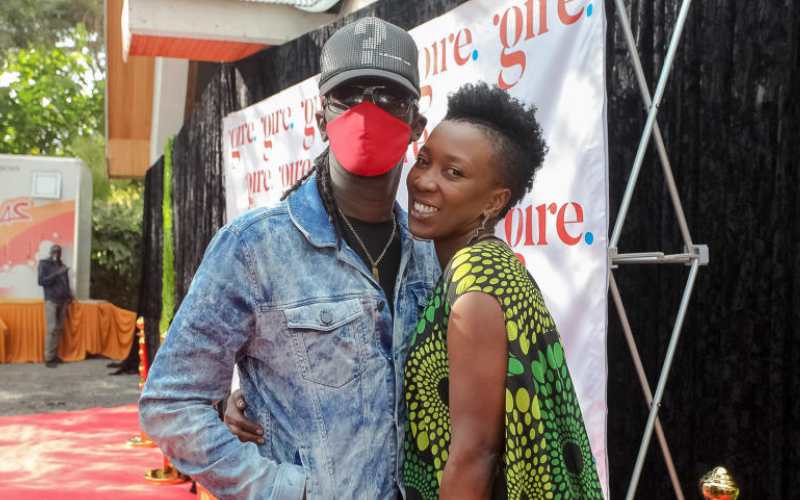 About a week after his wife admitted to being a sexual abuse survivor, veteran Kenyan singer David Mathenge alias Nameless has now offered to help other victims by connecting them to a professional therapist who will assist them in their healing journey.
Expressing his disappointment on social media, the father of two encouraged victims to allow themselves to heal from the gruesome ordeal and reach out to professionals for help. "As a father of girls it saddens me to hear stories of women and men who have gone through some form of sexual harassment especially when they were young and didn't know what to do or where to go at that tender age.
"It definitely has psychological side effects that affect you till the present [sic] so it's important to find the tools to help you heal and move past any such experience you may have had ... My wife continues to get so many Dm's since she shared her own experience ..," he wrote.
He went on to share the therapists' details urging individuals to reach out whenever they could. "Our advice is to call the number 0800 722 022 if you want to talk to a professional therapist to help you heal find a way forward. #tujulishane #tuzidi," he added.
Wahu's confession
Nameless's offer to help sexually abused individuals comes after his wife, Gospel singer Wahu Kagwi opened up on her social media about being molested at a tender age by her older cousin while living with her grandmother.
"When I was 9 years old, I was sexually molested by my cousin. My mum had left me in his custody, I was 9 and he was probably 19 or 20 years old. We were in shags and she went to the Shamba, left me with this guy. She just said take care of her I'm coming back. The guy molested me, touched me very inappropriately and I was irked, I was angry and you know what the bastard said? Ati his way of apologizing was 'I'm sorry si then you also touch me the same way'. I was 9 years old, it still hurts, and it's still upsetting when I think about it," said Wahu.
Also read: Wahu and Nameless love story
Wahu advised parents and guardians to be mindful of the people they entrust their young ones with explaining that any wrongful act will stick with the child for a long time. "My mum was trusting her nephew to take care of her child; she'd just gone to pick Sukuma wiki and of course you don't think that your nephew could. I'm saying this now because I think as parents, we need to be so watchful, so careful who we let into the space of our homes, into the space of our children.
I think I'm more particularly concerned as a mother of girls. I can't just let any guy into my house and even just entrusting them with somebody. That one innocent act can lead to a life-time of a young girl growing up with pain, hurt, anger, trust issues. My message is to ask parents out there even for boys to just be more hands on when it comes to caring for our children. Don't trust because it's a relative," she said.