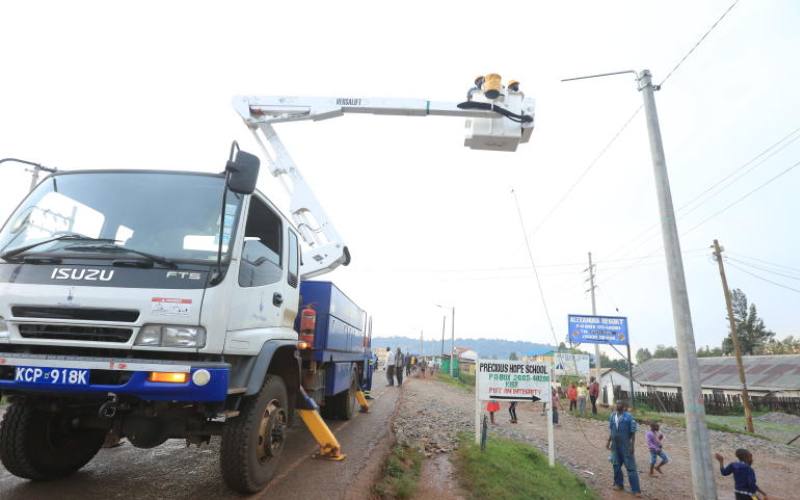 With only eight days remaining to the event, authorities in Kisii town are upbeat about Mashujaa Day celebrations, which will be graced by President Uhuru Kenyatta at the Gusii Stadium. Local leaders led by Governor James Ongwae said they have set the pace for the region by becoming the first county in Nyanza to host an annual national event outside Nairobi. "All our visitors should feel comfortable because Kisii is safe and secure for the celebrations," said Ongwae.
The global Covid-19 pandemic had robbed the county of an opportunity to host this year's Madaraka Day celebration that had been slated for June 1. Given the attention that hosting a national day brings, the host town has received a massive face-lift that is coordinated by the national and county governments.
Kisii town has been spruced up; several buildings have already received a fresh coat of paint; more street lights have been erected; and potholes on major roads have been fixed. The military that always organises such functions has been training at Gusii Stadium for the last two weeks. Kenya Air Force has also been displaying their aerial prowess as they train for the 56th Mashujaa Day celebrations.
Traders are readying to earn a windfall from the increased multitudes that will turn up for the occasion. Ufanisi Resorts proprietor Isabela Lumumba said most of the rooms had been booked though they expect to have more bookings from today.
"We have had a big percentage of our rooms booked, but we hope to hit the climax by Friday," she said. Lexar Hotel Manager Charles Mochabe said several government officers planning the event have been residing at the hotel.
Also read: Media players condemn government for attempting to gag journalists
"We have 30 rooms and already we are experiencing full bookings on a daily basis," said Mochabe. Interior and National Coordination Principal Secretary Karanja Kibicho together with other members of the National Celebrations Committee toured Kisii two weeks ago to check on preparations ahead of the event.
Kibicho said between 3,000 and 3,500 people will be hosted at the stadium due to Covid-19 management protocols. The facility has the capacity to hold 25,000 people. He, however, noted that giant screens will be mounted in strategic places in the town for the public to follow the ceremony.
On Saturday, Cabinet Secretary Fred Matiang'i said through the event Kisii had experienced massive infrastructural development. "This is a one-day event, but the advantages that come with it will be here to celebrate for years. We have seen the expansion of roads, renovation of Gusii Stadium and improved street lighting that will boost our security," said Matiang'i.
NATIONAL COHESION
He added: "There is huge economic importance whenever such functions are held in counties. The business community will feel the positive impact." Ongwae, in a meeting with stakeholders a week ago, said the town was set to benefit greatly from the event.
"We thank President Kenyatta for honouring his promise to give us an opportunity to host this celebration," said Ongwae. He went on: "The county government has not taken the plans to have the celebrations held in Kisii for granted. This will boost our economy and infrastructure development."
Also read: Uhuru asks for forgiveness during National Prayer Service
Uhuru is also expected to spend a day or two in Kisii to tour some of the multi-billion development projects being undertaken by both national and county governments. In 2015, the president ordered that two out of Kenya's three National Days will be hosted on a rotational basis by counties outside Nairobi.
President Kenyatta had observed that the decision was aimed at boosting national cohesion and integration. The three National Days are Madaraka celebrated on June 1, Mashujaa celebrated on October 20 and Jamhuri held on December 12.