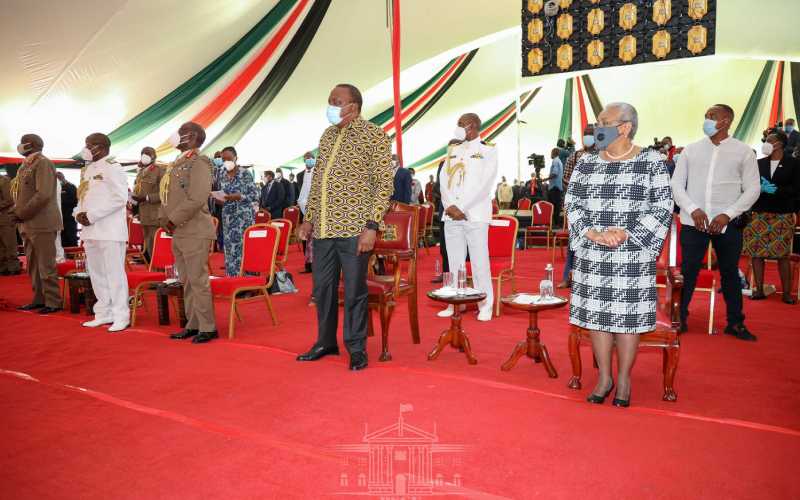 President Uhuru Kenyatta on Saturday led the nation in an interfaith service held at State House and urged Kenyans to bury the hatchet for the country to forge ahead. While giving his vote of thanks, the Head of State thanked all the religious leaders and other government officials who had spared time to grace the occasion but it was his last statement that left an indelible mark on the hearts of many.
The President boldly asked for forgiveness from anyone he had wronged before taking a deep breath and declaring he had forgiven all those who had offended him. "Kama kuna mtu mimi nimefanyia makosa, naomba msamaha. Kama kuna mmoja wenu ambaye amenikosea, mimi nimemsamehe. Hiyo ndio njia pekee ya kusonga na kuendelea mbele…" he said.
In recent weeks, trouble has been brewing in Jubilee Party and rifts between the President's camp and DP William Ruto's allies have been laid bare for all to see. Ruto's diehards have accused the Head of State and his team of locking out the DP in important issues, leading to Ruto's no show during the National Covid-19 Conference a week ago.
Also read: Uhuru calls for a weekend of prayer
They argued that the DP has been kept on the sidelines for way too long so his absence should not have come as a surprise. The DP was, however, in attendance on Saturday as the President asked for forgiveness from the nation.
In his speech, President Kenyatta also took time to thank medics for their efforts in combating Coronavirus, admitting it has been a challenging period. "This is a day that we have agreed to dedicate our nation to God. We have undergone serious challenges, we may have won a number of battles, but the war is yet to be won. We need to continue to ask our creator to stand with us.
Also read: Magufuli urges Tanzanians to join Kenyans in prayer
"I thank all our health workers and essential service providers who have gone above and beyond the call of duty during this most difficult time," he said.