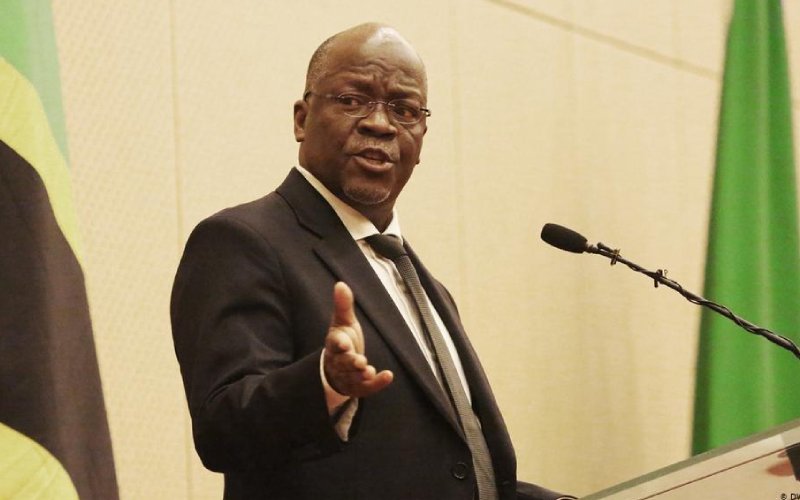 President John Pombe Magufuli has asked Tanzanians to spare some time and join Kenyans in inter-faith prayer against the coronavirus. Magufuli claimed his country, Tanzania, had managed to defeat the coronavirus through prayers which he led in early May.
He urged Tanzanians that just as they had called on God to intervene and take the virus away, the time has come for them to join hands with Kenyans with whom they share common interests.
"Some few months our country was among others struck with Coronavirus, we sat with religious leaders and we prayed to God to protect our nation. We thank God because in him nothing is impossible, he helped us we defeated the disease," Magufuli said.
He further claimed that the success of the prayers was the defeat of the coronavirus from Tanzania - a statement that has disputed by civil society and medical experts in Tanzania.
"Leo asubuhi kabla nije hapa nimesemezana na mwenzangu na rafikiki wetu raisi Uhuru Kenyatta wa Kenya. Ameamua naye pia katika kipindi cha siku tatu kuanzia leo hadi Jumapili kumuomba mungu ili ugonjwa wa korona uondoke Kenya. Nawaomba sana wa Tanzania wenzangu tushirikiane na wenzetu wa Kenya kwenye maombi hayo ili ugonjwa huo uwaondokee,
( Today before I came here, I had a chat with my counterpart and friend Uhuru Kenyatta President of Kenya. He has decided to have a three-day national prayer starting today till Sunday to pray to God that he may deliver them from the disease. I ask all of us to join them in these prayers that their God may also protect them the way he did to us)" he said.
Also: Uhuru announces weekend of prayer
Magufuli said he is sure the same God who intervened in their situation, hears, answers prayers and will not fail Kenya.
"God is always good all the time and when one prays to him there is nothing that is impossible," he said. Speaking during a political rally in Chato Geita, Magufuli said, fortunately, his government did not bow to pressure to lockdown.
"Many threatened us with dire consequences, they wanted us to shut down the economy so that we run away from the problem but in reality, leadership is about carrying the problems on those you lead on your shoulders that is why today we are here," he said.
Since the beginning of May, Tanzania has not been releasing any official figures on the extent of the outbreak that has left over 29 million people infected globally with over 925, 000 deaths. "That is satanic. The devil wanted to take over the world but we want to remind him that he has no chance in Tanzania," he said.