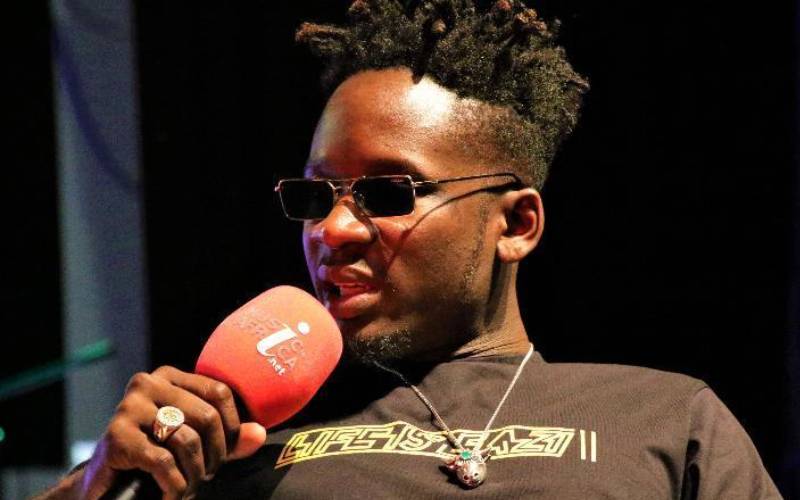 Popular Nigerian singer Oluwatosin Ajibade, better known by his stage name Mr Eazi is definitely not a new name in the industry. The pioneer of Banku music, a fusion sound he describes as a mixture of Ghanaian highlife and Nigerian chord progressions and patterns, recently dropped a video for "Oh My Gawd" hit which he featured Nicki Minaj and K4MO.
Speaking about the said song, the 29-year-old revealed interesting facts about himself. When asked whether he uses public toilets, the dancehall singer disclosed that he would rather hold it in, and while at it, he shared how he manages to overcome the urge until he is at home.
"No, Eazi does not do it. I would rather just hold it in and breath in and out (demonstrating) I like my toilet's privacy," he said. On the other hand, Eazi also disclosed that even though he does not like attending award shows, he loves taking selfies.
Also read: List of Nairobi estates that will experience water shortage
"Selfies? Yes! Eazi does it. I love selfies," to score his point, Eazi paused the interview and in fact took a selfie, "I will actually take one now," he said as he reached out to his phone, "selfies are the best!" he affirmed. Just a couple of weeks ago Mr Eazi's tweet went viral after reaching out to Kanye West. Kanye had revealed on the social media platform, how record labels and distributing companies exploit talents in the American entertainment industry.
"When I spoke to Katie Jacobs who is on the board of Vivendi we decided to create a "Y combinator" for the music industry so artists have the power and transparency to be in control of their future … no more shady contracts … no more lifelong deals." Kanye tweeted. In reaction to tweet, Mr. Eazi openly invited Kanye West to his emPawaAfrica record label.
"Spot on Ye! In Africa we are already Leapfrogging! Come Join us at @emPawaAfrica we align in thought!" replied Mr Eazi. Born in the oil-rich region of Port Harcourt, Eazi, moved to Ghana as a teenager to attend Kwame Nkrumah University of Science and Technology. After seven years in Accra, he moved to Lagos Nigeria, the largest city in all of Africa.
Also read: Use culture to nurture your talents, Lupita tells artistes
''I am a Naija boy. Who was born in Port Harcourt, who grew up in Lagos, who spent seven years in Ghana. And who is now traveling the world.'' He said, adding that "I think what the takeaway from growing up on the move is that it made me appreciate Nigeria as well as people's differences."