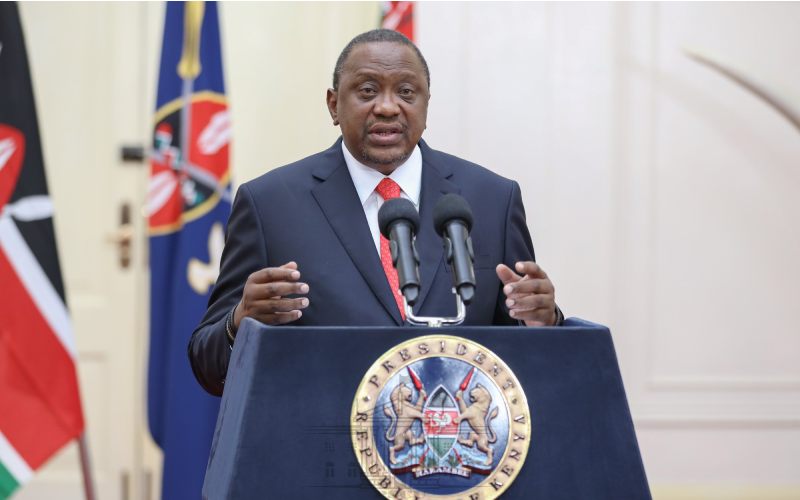 President Uhuru Kenyatta on Wednesday dedicated the forthcoming weekend to prayer and urged Kenyans to pray for the country in their usual places of worship. The Head of State is set to convene and inter-faith national prayer service on Saturday at State House starting 10am.
"His Excellency the President has dedicated the forthcoming weekend, Friday 9th to Sunday 11th October 2020, a national weekend of prayer during which Kenyans are encouraged to pray for the country in their usual places of worship in compliance with Covid-19 containment protocols.
"On Saturday, 10th October 2020, the Head of State will convene an inter-faith national prayer service at State House, Nairobi starting at 10am.
"The inter-faith prayer service will be broadcast live to the entire country on all leading television, radio and digital media platforms," read a statement by State House Spokesperson Kanze Dena.
Also read: Government announces when schools will reopen
Earlier, the National Cohesion and Integration Commission (NCIC) opined on the heightened political temperature in the country and appealed to leaders to desist from utterances that provoke hate, ethnic division and other unlawful behaviour.
"All Kenyans have rights to live, make a living, travel, vie for leadership and work in any part of the Republic without fear of molestation, intimidation, harassment or being labeled a stranger…as a commission we are calling on all institutions of Government to be non-partisan while discharging their mandate," read the statement in part.
Further, NCIC asked Kenyans to cultivate a culture of non-violence, respect for the rule of law and shun incitement.
Also read: Julie Gichuru appreciates her teacher in special way