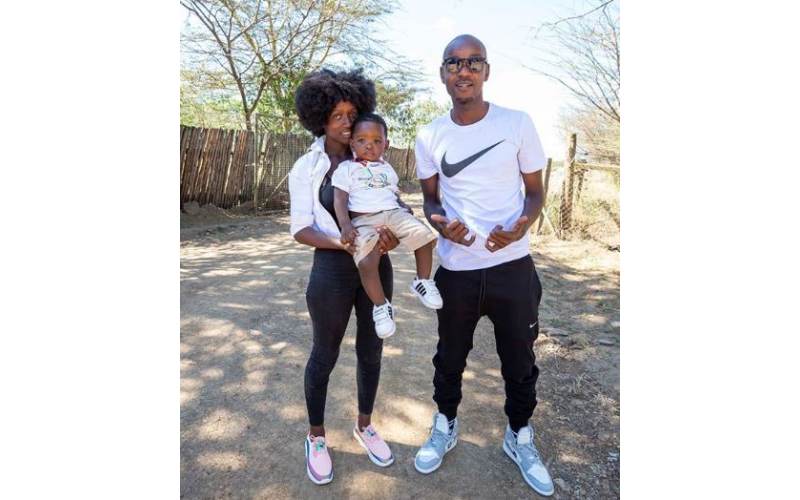 Former Ogopa Deejays signee Kenzo Matata has for the first time introduced his wife to the world – two years after the two met, fell in love and got married. This comes as a big surprise to many as never before has he discussed what seems to be one of local showbiz well-kept secrets. In fact, Kenzo has maintained a low profile since he parted ways with his previous lover, that's before leaving Ogopa and going into the liquor stores business.
Yesterday, October 5, his baby was turning one and it was this time that he decided to post photos – to unveil "mylittlefamily". Happy birthday my son @tumiso.kenzojr (hata kama hauna shughli). Unapendwa sana…Had a awesome time at the Nairobi National Park courtesy of @bellasafaris," Kenzo updated on a Instagram post.
And speaking to Standard Entertainment and Lifestyle, the Mama hit-maker revealed that he had been married for slightly over two years.
"My son is called Tumiso and my wife's name is Rose. They are my little heaven. I thank God for every moment he has given us together. Because of family, so much has changed in my life for better and I know, things will never be the same again," Kenzo said.
"We met in South B where I live. We fell for each other and from there one thing led to another. As they say, the rest is history. My wife is a business lady and together we are running some businesses – as a family," the Prayer singer went on.
Also read: Emmy Kosgei teams up with Mercy Chinwo in new project
The birthday party that was attended by a number of celebrities and close friends among them Nameless and Wyre, saw the family take an extensive tour of the park before sharing a meal with their friends as they cut the birthday cake.
Six years ago, Kenzo became one of the celebrated Ogopa Deejays artistes to be fired from the stable after what seemed to be a push and pull between them and the label – one of the biggest Kenyan sounds behind the Kapuka beat. Others were Avril, Colonel Mustapha and Trapee. At the time, Ogopa Deejays had indicated that it wanted to restructure – complete with new faces.
"The exit from Ogopa was a lesson in many ways. I am still doing music and I have never had any difference with my former managers at Ogopa. My fans are still supporting me and I can say, having come this far, still there is no turning back," Kenzo concluded.
Also read: Tedd Josiah opens up on the challenges of being a single dad