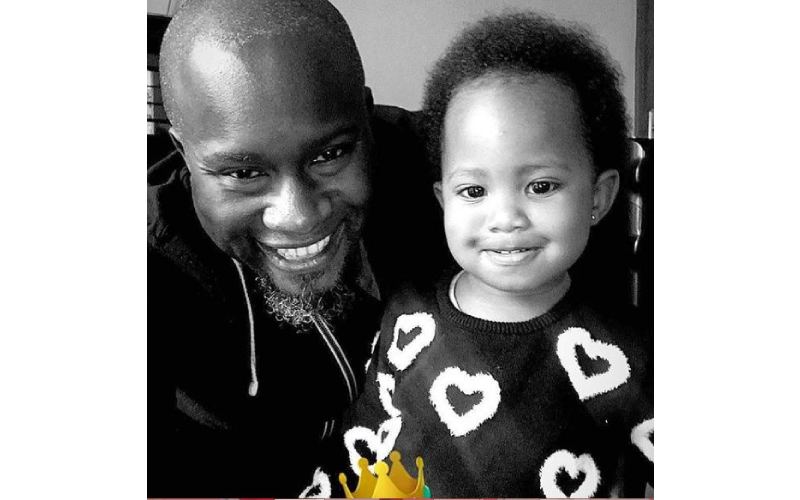 Following the sudden death of his wife Regina Katar back in 2017, popular Kenyan producer Tedd Josiah was forced to take up the role of being both a mother and a father to his then three-month-old daughter Jameela Wendo, a shift he admits he was never ready for.
According to Tedd, the journey of being both a mom and dad to his three-year-old has been anything but easy. Sharing his experience with his fans on Instagram, the Joka Jok luxury handbag founder revealed that his daughter constantly required his love and attention without consideration of how he felt both emotionally and physically.
"I never wanted to be a mom, it's tough, and it's Hard as nails!!! It bleeds you dry!! It's emotionally exhausting and when you've hit rock bottom is when your child now wants and demands more and more... It's like a fruit on the tree requires shade from direct sun light so the tree shelters the fruit no matter how hot the sun gets and it uses all its leaves come what may..." he wrote.
Tedd went on to admit that he has had extremely low moments that pushed him to consider giving up but is grateful for his daughter who reminds him of his purpose.
Also read: Kalenjin singer Rhino Kaboom dies in accident
"There are nights I've thrown my back cause she wants to be carried to the loo to pee or wants a drink of water but wants to be carried all the way there... there are times am tired and just need 5 minutes between work and baby, but she welcomes you into her space. Hugs your neck and you forget all the stress of work...This past week has been emotionally tough and health issues crept up… Her solution for me was kisses which worked! So here's to all the moms out there! You rock! Live, Love, laugh #RaisingJay #TheManMom," he added.
Wife's memorial
On Wednesday, September 30, 2020, Tedd celebrated his late wife with a moving tribute shared on his social media. The veteran Kenyan producer put together a video consisting of pictures and videos of Reginah throughout their life together with the caption;
"In Memory of a Queen Reginah Katar. The toughest video I've had to make in a long while as I reflect on moments shared, loved given, dreams built, hope restored then everything we'd built taken from us in a blink of an eye. Love stings when death calls. But love lives when love is called upon to be eternal. Above all less is LOVE. Rest mama, we will keep your name and legacy alive."
In the video, Tedd relived the last moments he had with his wife explaining that life has not been the same since her demise.
Also read: Trump claims he may be immune to covid-19
"So it's Jay's mom's memorial and In all honesty I have tried to write a script every single script I could in the face of the planet and some things you can't script.   On the 30th of September 2017, I would have given anything even my life for my wife to stay alive, that the honest truth. You can't have dinner with somebody then 3-4 hours later they are dead and go through life as if life is okay, you can't. But people say God does things for His own reasons and you know, we live as God's composition so," he said.