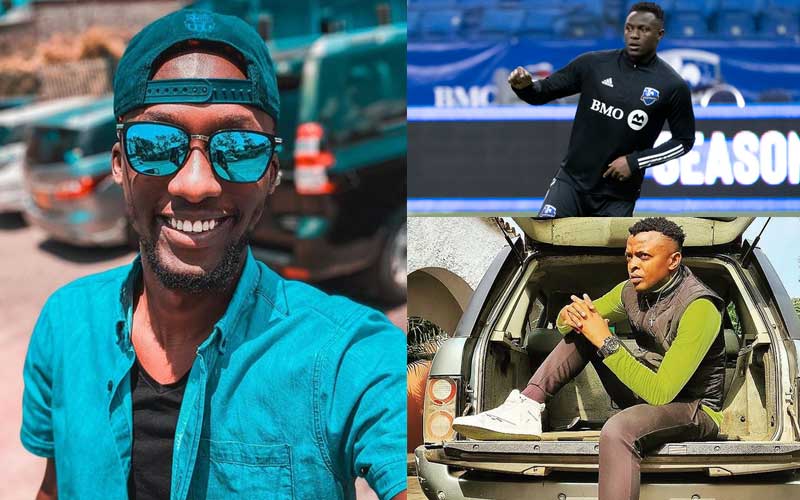 Popular blogger Xtian Dela is facing backlash after jointly live streaming a controversial session with an Instagram user only identified as Shakila. In the video which has since gone viral, Shakila claims to have bedded over seven Kenyan celebrities. Shakila further says that she's done with local men and has now set her sights on WCB signee Rayvanny. Harambee Stars Captain Victor Wanyama who was namedropped by Shakila has since launched legal proceedings against the blogger.  Through a statement shared via Twitter, Wanyama denied ever meeting Xtian and Shakila, terming the claims in the video as 'defamatory' and a 'fabrication'.
READ ALSO: Kenyans find entertainment in twerk contests and late night shows on Instagram
"I wish to distance myself completely from the contents of this defamatory video. The allegations made therein are a total fabrication and a figment of the maker's imagination at best…. I have never met any party in the video. I strongly condemn the actions of both the woman in the video and the publisher of the video Arthur Mandela for encouraging the disparagement of character of individuals based on false accusatory statement.  I have worked long and hard to build my character and standing in the society. Such malicious, scandalizing and false assertions about my name and character are unacceptable to me, my family and institutions who have placed great trust in me.
"I have instructed my legal team to pursue all legal remedies available to me and to which I have unreserved rights to seek. That is all I wish to state," the statement by Wanyama read.
Football ace Victor Wanyama to sue Xtian Dela for defamation after Kenyan socialite Shakila claimed she had sexual relations with him during an interview with the blogger pic.twitter.com/FMKDp3F8BH — The African Voice (@teddyeugene) September 29, 2020
Ringtone's warning
READ ALSO: I made over Sh5 million from 'Club Covid' - Xtian Dela
Gospel singer Ringtone Apoko who was also named by Shakila accused the blogger of coaching young women to falsify facts in a bid to hype an Instagram show.
"Naona ni kama tumeeanza kuzoeana…Dont use my name, be very careful when dealing with people like me…I am warning you, and that is the last warning," said Ringtone, adding that if he wanted, he could pray to God for Xtian to face dire consequences.
Running into trouble
This is not the first time Xtian Dela's social media antics have landed him in hot water as four months ago, he was summoned by the DCI over his controversial 'Club Covid' Instagram show. The PG 18- rated show which ran after the watershed period saw twerking competition with the winners bagging over Sh100,000. The DCI summon came barely a month after three parents sued the blogger seeking to have him stopped from airing the late-night show. Xtian later revealed that he'd made over Sh5 million from Club Covid in less than three months, adding that the highest amount he collected in a single night was Sh700,000.