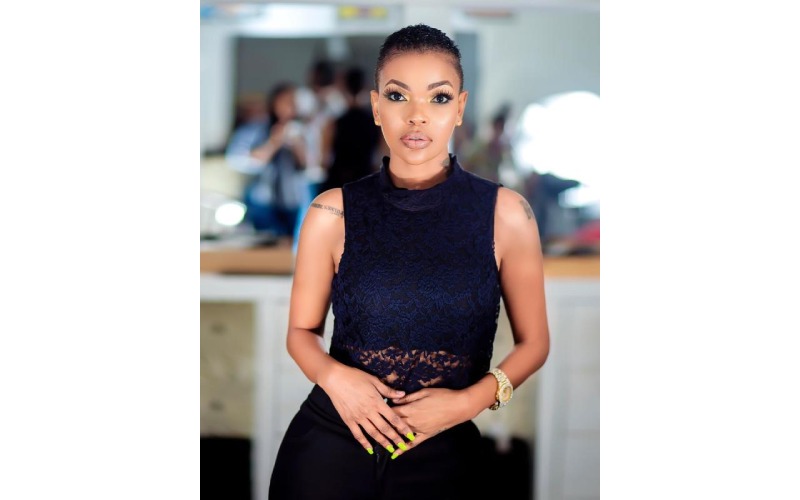 Popular Bongo actress cum TV host Wema Sepetu has opened up on her future plans to undergo body modification surgery. Speaking on her cooking show, Cooking with Wema, the Tanzanian beauty explained to her guest, Songstress Muna Love, that she has been considering surgery for a while now and will go through with it once the pandemic is under control.
Unbothered by people's opinions, Wema affirmed that she would go through with the procedure hopefully before the year ends despite the trolling that might come with it.
"Maybe you are seeing it is a bad thing and I'd understand but personally, let me be honest and not look like liar. I always tell the truth anyway. I have made the decision, God willing Corona ends, before this year is over I'm going to get surgery and whoever wants to talk can talk. 'You heard? Whoever wants to talk can go ahead and talk.'
"I want to get a killer body, I even don't know how to explain but something like that of Kim Kardashian, she looks amazing," she said. Before admitting to wanting to undergo surgery, Wema had been accused of having had previous body enhancement procedures done to aid in her weight loss journey, a claim she vehemently denied.
Also read: I have struggled so much - Wema Sepetu speaks on trying to get a baby
"Guys... How do matters such as surgery, tummy tuck gone wrong or liposuction relate to me? Please leave me alone. You'll get that those gossiping about me have a humungous stomach yet you are stressing over mine. You are always talking about my stomach, I don't know how it became your business. Just let me be. I Love me with my perfect imperfections...so let me be," she responded.
"You know I did not undergo surgery as people keep saying, if I happened to do it, I would not be looking like this," she added. The Tanzanian socialite attributed her rapid weight loss to her change in diet and appetite suppressing drugs prescribed to her by her doctor.
"I've never had a tummy tuck like most people are saying. The reason I went to India was so that I can consult and get treatment for my fertility. On coming back I was advised to cut on weight so as to increase my chances of conceiving since I have a lot of fat around my uterus that is making the process difficult. So it's just eating right and also there are a few drugs I have been prescribed to that suppresses my appetite. I have been using medication, that I won't lie and also I have been stressed here and there so that might also have been a factor," she said.
Also read: Wema Sepetu to relocate to Kenya
Wema Sepetu's current body size has been a topic of discussion for some time now and despite being told she is too skinny, Wema assures that she looks and feels great. "I'm so happy with my new body, I feel lighter, I feel comfortable, I feel more beautiful, I don't feel heavy anymore and looking back, I realize I was on the wrong path." she said.