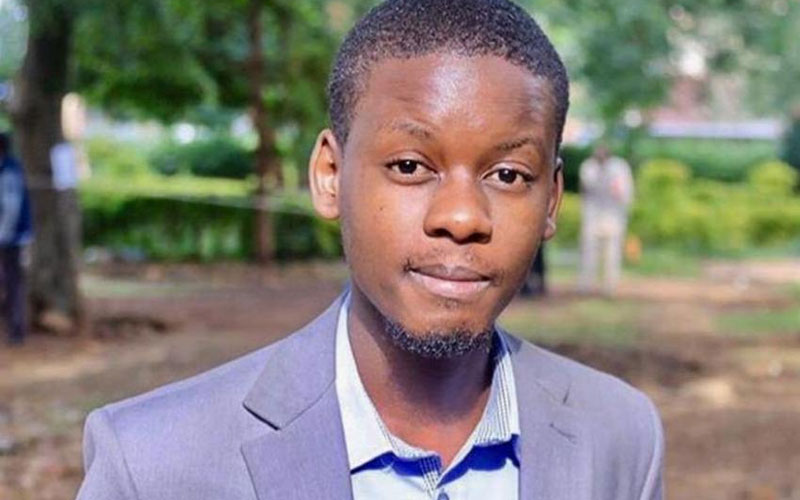 KTN News features reporter Timothy Otieno is among 12 shortlisted entrants from across the world for the annual Thomson Foundation award. The 12 were selected by the foundation's judging panel from 200 entries across 55 countries.  Speaking to Standard Entertainment & Lifestyle, the bubbly reporter revealed that he was more than elated when he received the news.
"I was extremely mortified! It was an award I'd never imagine I'd even apply for... one of our TV producers recommended that I try it out a few months ago," he said.
The TV reporter's submission was a heart-wrenching story of how Covid-19 restrictions have impacted the lives of street children. They rely on the streets for food, water and shelter but curfews and the closure of eateries made access to these basic needs precarious for this vulnerable group. Barely 24-hours after his story aired, President Uhuru Kenyatta issued a directive to rescue the featured street boys who were then taken to a government rescue facility. According to Otieno, that was the highlight of his feature report.
READ ALSO: KTN's Timothy Otieno opens up on initiative to give back to society
"They all enrolled in a technical training institute and recently graduated. They even invited me to their graduation ceremony. I was so proud. The boys I met months ago sleeping in the cold have now turned their lives around and will never be the same again. That for me is already rewarding, the Thompson Foundation Young Journalist Award nomination is just a bonus," he said.
Otieno, who recently disclosed that the coronavirus pandemic has allowed him to reflect on his dreams and journey to the top by initiating a free mentorship program for aspiring scribes, added that youngsters should stop at nothing in pursuit of excellence.
"I'd like to encourage all young people who look up to me to always focus on excellence! We should all strive to be effective as opposed to being popular. Dr Martin Luther King Jr. put it so well. He said, 'Not everyone can be famous, but everyone can be great because greatness is determined by service'."
The Area Code producer and host added that the urge to be different and tell people-driven stories has been a motivating factor.
"I have this strong urge to just be different. I hate doing normal, 'boring' news stories of press conferences and daily politicking. I honestly believe that niche is already too crowded... seldom do journos focus on people-centred, people-driven stories of the common guy hustling to earn a living. And those are the stories my blood boils for," he said.
READ ALSO: From attempting suicide to finding love - KTN journalist
Timothy and the 11 other entrants from Nigeria, India, Ukraine just to mention but a few, will have the opportunity to participate in the foundation's digital learning platform, Journalism Now.
Three of the twelve Young Journalist finalists will be announced in October and the overall winner will be decided by external judges, British investigative journalist, Seyi Rhodes, contributing editor of the Financial Times, John Lloyd and former editor of the BBC Today programme, Sarah Sands. The winner will be announced in November.