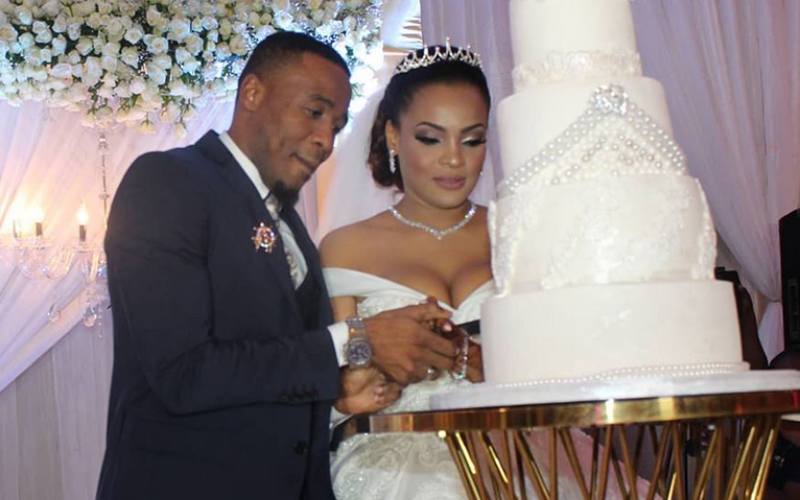 Tanzanian singer-songwriter and footballer Ali Saleh Kiba popularly known as Ali Kiba has for the first time addressed breakup rumors that have been surrounding his marriage for a while now.
Speaking on his marriage at a Clouds FM interview, the father of four disclosed that he and his wife Amina Khalef have never parted ways since they got married in 2018. According to Kiba, every time allegations surfaced, he and his wife were going strong but nobody believed him.
"Alikuwepo siku zote, mbona mnafikiria hivyo ama kwa sababu mmeona picha. Tuko vile vile freshi siku zote nilikuwa nawaambia lakini mlikuwa hamuamini, (She has always been around. Why do you think so? Is it because you've seen photos? We are very much okay. I have always told you that but you never believed me)" he said.
In November last year, Kiba released a song that seemed to have been dedicated to his Kenyan wife Amina Khalef who was rumoured to have left her matrimonial home and moved back to Kenya just one year into their marriage.
Also read: Ali Kiba and his wife mend their relationship
However, commenting on the issue, the "Dodo" crooner said his beloved wife has the freedom to live wherever she wants to. "Mke wangu popote anapotaka kukaa atakaa. (My wife will live wherever she wants)," he claimed.
Recently, the couple was spotted getting cosy when they threw a lavish birthday party for their son in Tanzania. Kiba said in a past interview that he was experiencing some marital hurdles at home and it is something normal in family setup.
"Ni kweli mimi na mke wangu tuna migogoro na ni jambo la kawaida kwenye ndoa, ila sijampa talaka hata moja (It is true that my wife and I have our own issues and it normal in a marriage. However, I have not divorced her)" he confessed.
At the time, he advised people to stop celebrating when a person experiences difficulty in life.
"Watu wasipende kufurahia matatizo ya wenzao, au labda ni ukosefu wa kazi, hakuna jambo ambalo Mwenyezi amelihalalisha na analichukia kama talaka. Binadamu unapata wapi ujasiri wa kuchochea wenzako waachane kwenye ndoa, ni shetani tu ndio anapenda ujinga huo," (People should not enjoy while others are suffering. Are they too idle because of unemployment? God hates divorce. Where do people get the strength to encourage others to divorce? It's only the devil) he added.
Ali Kiba explained that he personally took Amina back to Mombasa so that she could get back to the work she was previously doing before they got married.
Also read: Ali Kiba speaks on snubbing Harmonize
He added that he visits Amina frequently in Mombasa to check out on her and their baby and that she also flies to Dar es Salaam whenever she finds time to check on him as well. At the time of their wedding ceremony back in April of last year Amina was working at the Mombasa county.
Alikiba and Amina married in April 2018 in two lavish ceremonies one in Mombasa and the other in Dar es Salaam. The wedding was rumored to have cost Sh50million.