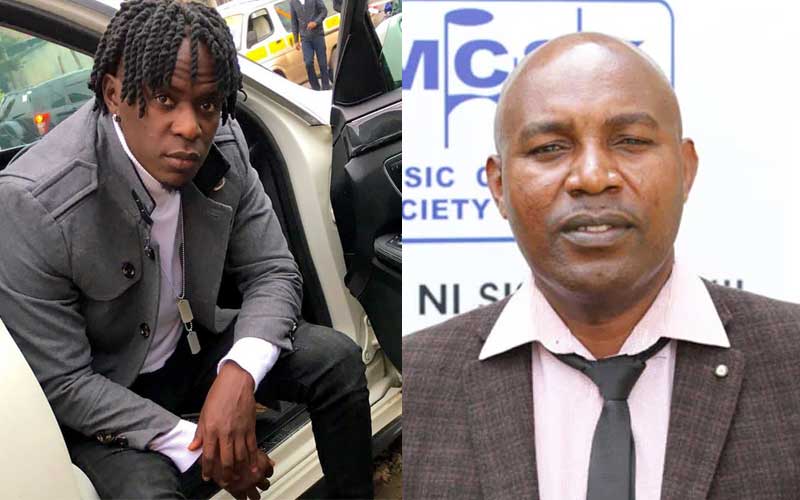 Willy Paul is an angry man and has taken to social to vent out his anger. This follows a recently released audit report indicating that the Music Copyright Society of Kenya (MCSK), Performers Rights Society of Kenya (PRISK) and Kenya Association of Music Producers (KAMP) could have been misappropriating funds meant for artists. In a video shared on his Instagram page, the angry singer is seen holding scissors while saying that artistes will have to deal with MCSK, beginning with him as an individual.
"We use a lot of money in our projects and you steal from us. Bastards, you will know who we are. Personally, if you see me, better run away," said the singer.
READ ALSO: Khaligraph, King Kaka, Vivian decry 'peanuts' paid by MCSK
The singer said that the government has failed to protect artistes by letting MCSK and other music royalties collectors steal from them He warned that they don't work hard only for the CMOs to enrich themselves and demanded an explanation on all the missing money.
"It's so sad that the government has failed to help the artists! We're being stolen from by the old men in MCSK and the rest! We don't work for you!! Some of us came from nothing like me and here you are, feeding your *** and *** with our money! We demand an explanation, not only that, plus all the money you've stolen!" added Willy Paul.
READ ALSO: Will 2020 be the end of musicians' anguish?
The said forensic audit from 2017 to 2019 unearthed deep-rooted systemic inefficiencies. The findings are contained in a draft report received by Kenya Copyright Board (KECOBO) Chairman Mutuma Mathiu. The scrutiny on Music Copyright Society of Kenya (MCSK), the Performers Rights Society of Kenya (Prisk) and the Kenya Association of Music Producers (Kamp) was ordered by the Kenya Copyright Board, which licenses the bodies, commonly called collective management organisations or CMOs.
READ ALSO: Pay for play- Why musicians are saying 'No, thanks' to Kamp, PRiSK and MCSK
Key issues highlighted in the audit report include diversion of royalties, poor corporate governance structures, suspected fraudulent transactions, poor record-keeping and the existence of ghost or duplicate members. The report also says the CMOs lack several critical policy documents, do not remit statutory deductions, have significant gaps in structure and administration and are negligent in asset management. KECOBO Executive Director Mr Edwar Sigei demanded for a formal response to the findings within a week effective September 8, 2020.