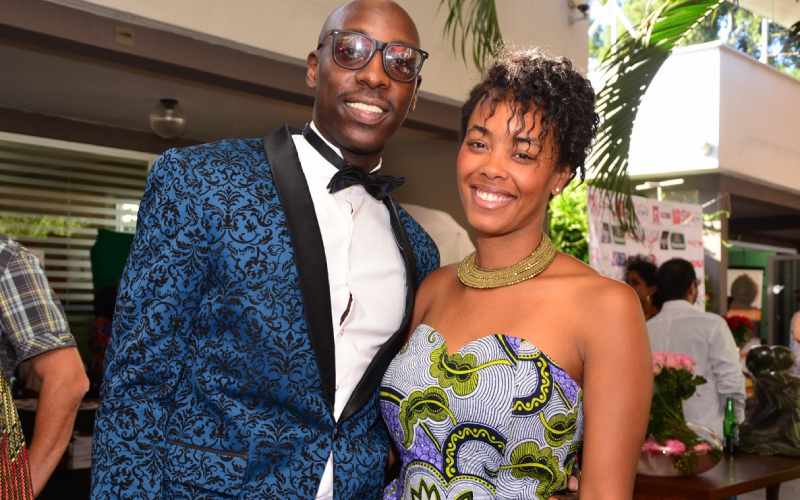 Sauti Sol's Bien Aime has opened up on how he met his wife Chiki Kuruka a few years ago. In the latest episode of the Sol Generation docu-series, Bien also described Chiki as the love of his life and his biggest critic. The 32-year-old revealed that he met Chiki at an event in Nairobi where one of his friends, celebrated photographer Emmanuel Jambo, was also present. However, he did not know that Emmanuel and Chiki knew each other. On the contrary, he thought that Emmanuel and Chiki were dating.
"I met her standing at the parking lot with a friend of mine called Emmanuel and I was like 'Emmanuel unachapa kitu safi' (Emmanuel you have bagged yourself a beautiful girl). I actually thought her and Emmanuel were together," Bien narrated.
When he met her, Bien disclosed that he had been single for almost a year and he was not really looking for love. However, something in her captured his attention and he couldn't stop thinking about her. "That night we ended up talking for so long and I was like this girl is intelligent. That time I had been single for about a year. When I met her, I wasn't actually looking for love in her, but in her, I felt like I was drinking a fresh glass of juice talking to Chiki." Bien added.
As for Chiki, she said that she does not believe in love at first sight, but she felt a connection with Bien. "I don't believe in love at first sight, never have never will do, but Bien and I have had a connection from day one," Chiki explained.
Also read: Bien opens up on difficult childhood
Chiki worked in the music industry in the UK six years ago and at that time, Ghanaian artiste Fuse ODG was a big artiste. His music was being played in many countries. So Chiki talked to Bien about linking Sauti Sol with the star. "I told Bien that I'll speak to Fuse ODG and if everything is cool, I'll seek numbers and he said cool," she added.
Speaking on their first date at the famous Mama Oliech's restaurant, Chiki revealed that she did not look at it as an appreciation lunch for a professional hook up she had done for Bien. "I was like why are we here because this is not thank you for a hookup because again culture difference. There're cats walking around everywhere, there isn't really even a ceiling. We were sitting outside," Chiki narrated her experience.
Bien explained how Chiki didn't like ugali and preferred to eat fish with chapati.
"I'm not one to let someone eat fish and chapati on my table. So I said no. We had a good lunch though, good vibes. Then we had lunch and went somewhere and had drinks," he said. He added that they were having so much fun and they simultaneously felt a deep connection towards each other.
Also read: Chimano speaks of awkward childhood
"It was like we are not letting each other go. As they say, she was turning this way and I was turning that way and our lips met," the vocalist said.