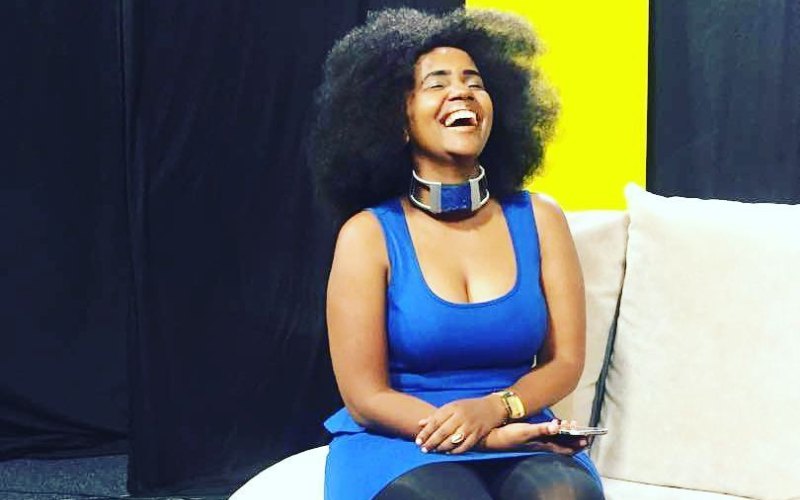 After taking a short break from the acting scene, DJ Pierra Makena has made a comeback with a new role in the Kenya drama series Kina. The actress is set to emulate the character of a young successful corporate woman by the name Professor Sharon Achieng who uses her wit to get her way with people. Opening up on her new role, Pierra revealed that she was taken aback at first by the character and wasn't sure if she could nail it explaining that Sharon was a psycho. However with the help of the directors and fellow actors she was able to bring the character to life.
"The first time I read about my role, I was like 'Oh my goodness, how am I going to do this?' I thought Sharon was a psycho with all the rollercoaster of emotions she has to go through. But that's what good characters are made of, so I took on the challenge. When I got on set and met very good directors who knew what they wanted from Sharon, it was easier for me to get the character out with what they had in mind," she said.
The social media sensation will be working alongside popular singer Sanaipei Tande who goes by the name Nana Tandala and talented ex-TV host Jimmy Gathu, known as Fred Tandala. Pierra has worked on several other TV shows including the famous TV series Tahidi high. You can catch the drama series on Showmax. 
Also read: DJ Pierra opens up on struggling with weight
Silprosa
Also celebrating a new venture is popular Auntie Boss actress Sandra Dacha aka Silprosa who was recently appointed the brand ambassador for Akothee Safaris tours and travels limited. Sandra shared the exciting news on social media, thanking the travel company for the opportunity to work with them.
"I am so delighted to announce to you that as from today henceforth, I am the brand ambassador for Akothee Safaris tours and travels limited," she wrote. The Akothee Safaris founder, musician Akothee also welcomed Sandra to the family as she commended her daughter Vesha for her dedication in running the family owned company.
The actress's appointment comes a few days after her heartbreaking revelation of being a rape survivor. Opening up during a recent interview, Silprosa explained that she was raped by a stranger whom she sought help from when she couldn't tracel her way back home.
"I once got lost after spending a whole day in Nairobi West's Luna Park. So I went to the matatu stage and announced I was lost and asked if there was anyone who would volunteer to take me home. One guy volunteered, and I don't know how the others trusted him. He carried me in his vehicle to his home and started touching me when we reached his parking lot.
Also read: Tell us the secret, netizens plead with Pierra after impressive weight loss
"His wife was breastfeeding and took me to a room where I slept on the floor. Her husband kept coming into my room in the middle of the night, but I didn't understand what was happening. The man gave me 1000 shillings, and I went home the following day," she narrated.